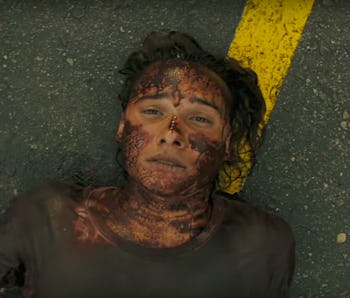 Entertainment
Everything Goes South in 'Fear the Walking Dead' 2B Trailer
"Death is not to be feared. But it should not be pursued."
YouTube.com/AMC
Unlike AMC's main zombie drama The Walking Dead, its prequel spin-off Fear the Walking Dead is its own series not tied to any continuity. So, it can do what the hell it wants, and that's just what it's doing in the trailer for the second half of its ongoing second season set to return August 21.
Madison, Alicia, Victor Strand, and a few others are split from Nick, who has chosen to journey on his own after resenting his mother Madison throughout the first part of this past second season. Meanwhile, Travis and Chris are also on their own, working their way back after Chris went unstable after his mother's death.
For the most part, everyone is heading south towards Mexico, and things aren't much better south of the border. Even in the apocalypse, there are more dangers that await. Madison and the others take shelter in an abandoned resort, Nick crosses paths with a dangerous gang, and Chris and Travis encounter hostiles while on the road. In one telling exchange, Nick meets a doctor who tells him: "Death is not to be feared. But it should not be pursued." Maybe he'll learn that this season!
The trailer, which premiered at San Diego Comic-Con, is below.
Fear the Walking Dead returns August 21.