'Equals' Imagines Love in a World Where it Doesn't Exist
A new featurette gives new, tantalizing details about this summer's most important indie sci-fi movie.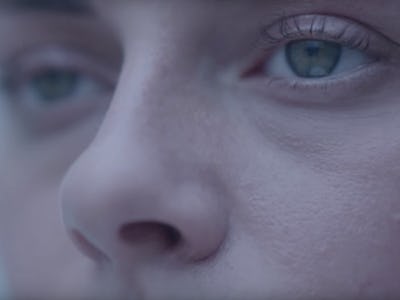 If your particular passion is either the emotionally bleak landscape of near-future sci-fi fare like Her and Ex Machina, the wide-reaching techno-paranoia of Black Mirror, or even the poignant and speculative dark-comedic scenarios of The Lobster, Equals will be the summer drama to see.
The Kristen Stewart-and-Nicholas Hoult-starring indie epic goes beyond the bleakness of Her's software-driven love story. Equals takes on romance in a world, where according to director Drake Doremus (Like Crazy, Breathe In) in an informative new featurette, where "love doesn't exist."
Yes, it's an oxymoron, but as in any good sci-fi universe, there are loopholes the resourceful and wily protagonists can get around. In Equals's case, they seem to have no choice. Lead Kristen Stewart and her counterpart, Nicholas Hoult, experience a gradual "awakening" to their feelings for one another, despite the fact that this is a world where their emotions, as Stewart puts it here, have been "switched off."
When Doremus talks about "learning to enjoy something that is really pleasurable," it's easy to imagine a Blade Runner-meets-Fifty Shades of Grey kind of scenario. There are, after all, a lot of glimpses of sexual "awakenings" in the trailer. Hoult and Stewart worked to develop the connection that is the crux of the film, "talk[ing] about life" and doing elaborate concentration exercises for "hours" to make the characters's rare connection believable.
It sounds pretty good on paper, but it's worth noting that viewpoints on the movie thus far, which premiered at the Venice Film Festival in September of last year, have been decidedly mixed, with the film currently maintaining a 36% on Rotten Tomatoes. Critics have generally criticized the film's plotting for not matching its dazzling aesthetic. That is, expect style, not mind melting substance here.
Nevertheless, sci-fi fans should remain optimistic. The film is being handled by A24 Productions, who are making a real name for themselves by handling some of the most talked-about, widely acclaimed , and forward-thinking indies of the year. This year they've provided daring films like The Lobster, The Witch, and Green Room with wide distribution.
Equals is in limited release now, but should be expanding to theaters everywhere this month.