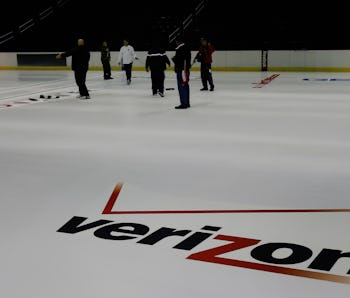 Innovation
Verizon Will Terminate Accounts of Grandfathered Customers
If you use more than 100GB of data on Verizon, you might want to get your affairs in order by August 31.
Getty Images / Rob Carr
It's not a fun time to be grandfathered in. The term in most recent cases represents an older customer whose rates stayed the same as new prices and plans were introduced. Recently, Netflix began switching its grandfathered customers — who paid 7.99 per month for the service, as opposed to its current 9.99 starting rate. Now, it seems, long-time Verizon customers will meet the company's new limits.
Rumors began swirling yesterday after reports suggested that Verizon was planning to shut down accounts that used extraordinary amounts of data. Now, it seems, that plan is becoming reality.
In a direct reply to ArsTechnica, Verizon addressed the rumors, stating that customers using more than 100GB every month will either have to choose a new plan by August 31st, or face the end of their accounts. Right now, the 100GB plan costs a total of $450 per month, marring an otherwise impressive line-up of service.
According to Droid Life, customers whose accounts are terminated have a 50-day window to start a new account with the company. Verizon's major reasoning behind the shift is that its network is a "shared source," and that the company wants all of its customers to receive the best service possible.
Verizon has something of a rough history with its long-term, grandfathered customers, but this instance is one of few in which the company hasn't backed down in the face of customer complaints. "These users are using data amounts well in excess of our largest plan size," Verizon says. "While the Verizon Plan at 100GB is designed to be shared across multiple users, each line receiving notification to move to the new Verizon Plan is using well in excess of that on a single device."
While the shift may improve overall LTE service – with the removal of customers who use unlimited data for their internet service – it's a pretty rough turn at a time when most mobile phone users also rely on their data.