Verizon Wireless' New Smartphone Data Plans Are the Future
Month-to-month deals benefit users and dealers.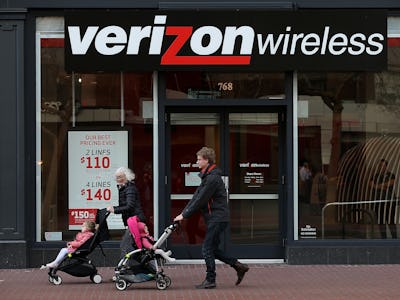 Justin Sullivan/Getty Images
Verizon is America's biggest wireless provider, and it has joined the future. Following in the footsteps of competitors AT&T, Sprint, and T-Mobile, Verizon has ended its required two-year smartphone plan, Yahoo reports.
Previously, a new contract entitled the buyer to a discounted phone — a $199 iPhone 6, for example — because she agreed to a pricey data plan, as well. The hardware without a plan costs $649, so the two-year contract was an attractive alternative. Now, you can pay down the phone over the course of two years and there are more levels of data from which to choose; with the old model, data cost $90 per month across the board. Between the monthly phone and data fees, plus an "access fee," it's still $92.08 a month to have an iPhone, per Yahoo's math. The difference, however, is that you used to pay $90 and you'd already dropped $199 on the phone, so the new deal saves customers a lot in the end.
With the biggest network on board, pay-as-you-go seems to be here to stay as the new norm. The deals help the public, who want smartphones, as well as Verizon, which likely just earned some new subscribers. $27.08 a month for a smartphone is a pretty easy number to stomach (before you calculate the rest), and you can jump ship at any time (if you're willing to give up your phone), so Verizon can now reel in anybody who was off-put by the high upfront costs or long-term commitment.