2017 'Star Trek' Tabletop RPG Will Be Set in Prime Universe
Modiphius Entertainment to helm first new 'Star Trek' Roleplaying Game in over a decade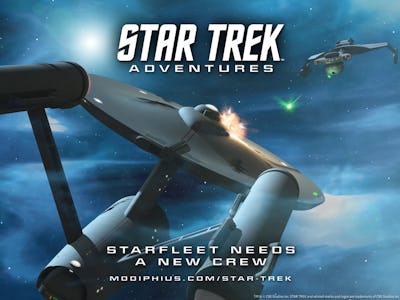 The endless complexities of the fictional universe of Star Trek is part of why it's been popular for over fifty years, but also why Trek is great source material for a role-playing game. For the first time since the 2002 Decipher Inc. Star Trek roleplaying game, Modiphius Entertainment is set to release a brand-new Star Trek RPG based on the their own 2d20 die gaming system. The game is called Star Trek Adventures and will be released in the summer of 2017.
Star Trek Adventures promises to not only be a game with tons of battling. According to Modiphius, the action players can experience won't just be limited to starship combat, but instead will range from a variety of missions, including "the ability to solve problems, deal with moral dilemmas, unearth conspiracies or ancient mysteries, will be as important as being able to command a ship in action or lead an Away Team under fire."
Notably, Modiphius's Star Trek Adventures will draw its material exclusively from the prime universe, and not the rebooted J.J. Abrams continuity. It's not clear if this was a legal distinction made in terms of the specific intellectual properties obtained by Modiphius, or if it is an artistic and creative statement. Right now, the fan consensus seems to lean toward the "classic" canon, making the wealth of material extremely vast.
Prior to the Decipher game in 2002, there was a series of Star Trek roleplaying games published by Unicorn Games in the 90's. And before that, from 1982 to 1989, there was the mega-famous FASA-produced Star Trek: The Roleplaying Game, which was notable for its liberal changes to preexisting Star Trek lore.
But, Modiphius promises this is an all new and fresh take on a Star Trek: Roleplaying saying "Star Trek Adventures is a completely new design and will be bringing to life many important aspects of the Star Trek stories in new ways that we think you are going to love."
All in all, it seems like Modiphius is headed back to basics: immerse players in the rich and exciting Star Trek universe, have detailed canonicity, and let people boldly roll in ways they haven't ever before.
Star Trek Adventures will be previewed at GenCon on August 4th-7th of this year.