Watch Enchantress Transform In This 'Suicide Squad' Clip
A new clip shows Cara Delevingne's Enchantress transforming as Viola Davis's Amanda Waller encourages her.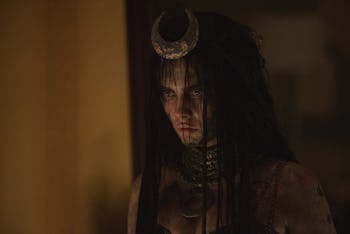 Warner Bros/ DC 
Suicide Squad has released a new clip of the Enchantress, the mysterious and nefarious character played by Cara Delevingne. She begins as a curious young woman named June Moone who takes a wrong turn at a party and accidentally stumbles upon magical forces that possess her. It happens to us all a time or two.
Unfortunately for young June, she's possessed by a witch, as Rick Flagg helpfully explains in the film's trailer. Thanks to her ominous looking black goop and mysterious absence from Squad group photos, we can infer that she's most likely the film's villain. In the clip, we see her morph from the innocent and human looking June Moone into her Enchantress identity.
Fans have speculated that Enchantress might be the primary villain in Suicide Squad, given that she's never pictured as standing with the other characters in promotional images, but this clip illustrates a more complex narrative.
Curiously, she seems to be working with Squad assembler and mean lady Amanda Waller, played by Viola Davis. Forget the new juggalo Joker, all signs point to Waller proving to be the film's most formidable character.
Suicide Squad, DC's first movie since Batman v Superman, hits theaters on August 5th.