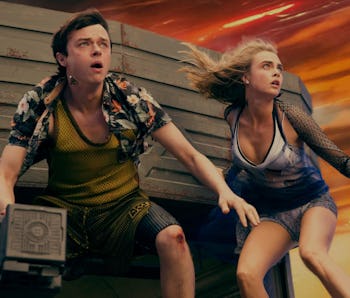 Entertainment
"Valerian and the City of a Thousand Planets" Lights Up SDCC
 Cara Delevingne and Dane DeHaan star in Luc Besson's next big space opera. 
At first glance, Valerian and the City of a Thousand Planets seems like yet another convoluted space opera trying to ride the curiously nonexistent Avatar wave, à la Jupiter Ascending. It stars Suicide Squad's Cara Delevigne and The Place Beyond The Pines's Dane DeHaan as special operatives who work for the government, patrolling the universe in the 28th century.
And then, to make things fun, the cast also throws in Clive Owen, Ethan Hawke, John Goodman, and Rhianna. But lest you think Rhianna's presence means this will be another Battleship there's one important factor to note: Valerian is helmed by French sci-fi master Luc Besson, director of the cult classic The Fifth Element, and its source material is a critically acclaimed, best-selling French graphic novel. The movie is based on Valérian and Laureline, a long-running space opera published between 1967 and 2010. The film adaptation could very well mark the triumphant return of space operas that don't have the word Star in the title – So long as the film is good, and not another Jupiter Ascending, that is. Judging from reports from its Comic Con panel, the vibes are looking good.
Many are calling it reminiscent of Besson's The Fifth Element and other sci-fi classics.
Others are just excited by how incredible the footage is.
It received a standing ovation and apparently invokes just about every space opera in existence in a crazy mashup of themes and excitement.
The concept art for the aliens looks dope.
There cannot be enough parallels made to The Fifth Element.
Seriously. So. Much. Fifth Element.
And Ethan Hawke is "loopy" while Rhianna is "steamy," whatever that means.
The movie comes out in summer of 2017.