Do You Recognize Amazon's Jeff Bezos in 'Star Trek Beyond'?
Amazon's CEO has always been a space man.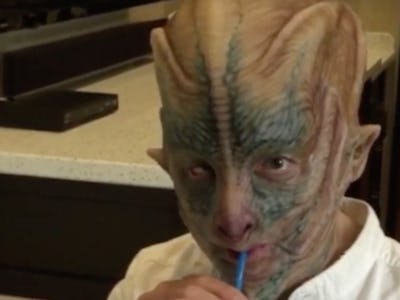 Amazon founder Jeff Bezos is a Trekkie and his cameo in Star Trek Beyond, which comes out Friday, puts his love for the sci-fi franchise front and center.
Last week, a reporter for the Associated Press noticed that Bezos was listed in the credits for the upcoming film, Star Trek Beyond on the film's IMDb page. Producer J.J. Abrams and Beyond director Justin Lin both confirmed his cameo in subsequent interviews.
Today, Bezos uploaded a video to his Vine account showing the businessman in alien prosthetic while eating lunch, presumably while he was filming his cameo on set.
Looking relatively cheery as an alien Starfleet Official, Bezos is decked out as alien with a sandy complexion and a blue coloration around his face. It's all quite elaborate costuming, considering the CEO was going to be on set for just a single day.
Bezos apparently arrived on set heavily guarded by security during filming. Director Jeremy Lin later recounted to the AP that it was "like a president visiting." Even though Bezos was just filming a cameo, he apparently had to wait around the whole day as several different shoots were happening. It helps explain why Bezos might have found time to sit down for a meal while in costume.
Bezos's lifelong passion for space travel prompted the mogul to found his own private aerospace company, Blue Origin. Through Blue Origin, Bezos is hoping to allow for personal human trips to space at low costs, as well as privately chartered space transport, and furthering space science projects with partnerships that have ties to NASA.
Here's the Vine that Bezos shared on Wednesday with the caption: "Bucket list. Cast, crew, and Justin Lin were amazing."
Lin also shared today the below image of Bezos (on the right) on set — so we'll know when and where to look for him when watching the movie, with this caption: "Great thing about making Trek is having passionate people drop by, like @JeffBezos. Here he is with Lydia Wilson."