Jason Todd Meets Batman in 'Red Hood and the Outlaws' Preview
What was Batman thinking parking the Batmobile in Crime Alley anyway?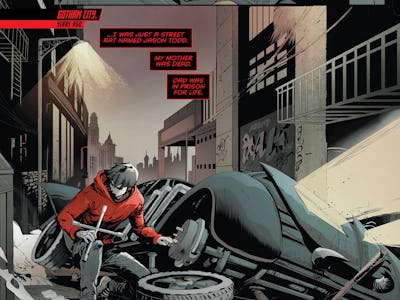 DC Comics
The legacy of Jason Todd, the second Robin and protégé of Batman, is changing. Originally hated by fans for being an unlikeable schoolyard bully, his murder by the Joker in the story arc A Death in the Family from the late '80s — which fans voted for by calling a toll number — was a defining moment in modern comics fandom. But three decades later, DC fans have warmed up to Jason in his newer role as the gun-toting Red Hood, affording him a richer dimension than when he wore Robin's mask.
Following DC: Rebirth, Jason's spotlight series Red Hood and the Outlaws where Jason leads a team of vigilantes with a mean streak gets a new volume kicking off with the one-shot Red Hood and the Outlaws: Rebirth #1 releasing July 27.
Returning to the series is writer Scott Lobdell (best known for X-Force in the '90s) with artist Dexter Soy and colorist Veronica Gandini. In the preview of the comic below, the trio show they're a well-oiled machine, with Lobdell doing well to humanize the first meeting between Batman and Jason, who was trying to jack tires off the Batmobile. Among bleak shades of black, tan, and gray, there's ample amounts of sharp red that foreshadows Jason's bloody and rage-filled future.
Check out a preview of the comic below. I hope you get a kick out of Batman and Jason chomping on burgers as much as I do.
DC Comics will release Red Hood and the Outlaws #1 will release July 27.