Disney Is Accelerating VR and Robotics
This year's Accelerator selections could change Disney parks forever.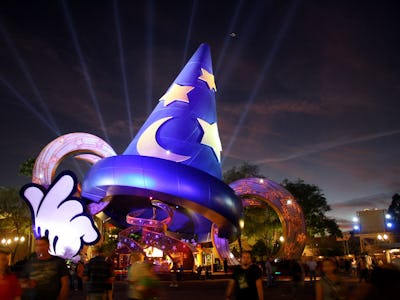 Flickr / Dawn Ashley
Every year — well, for the last two years — Disney's Accelerator program has selected promising startups creating technologies with entertainment applications. Winners receive a six-figure sum, high-profile mentorship, and a Los Angeles co-working space. It's meant to provide a boost for innovators and help Disney network within the rapidly changing media space. The choices made generally provide a glimpse into future productions that could receive the green light from the House of Mouse, which what makes three of this year's selections particularly fascinating.
Before we get into the details, let's start by looking back. In 2014, Disney selected, along with nine other companies, a hardware manufacturer named Sphero. Sphero went on to design the Star Wars BB-8 droid toy, which was the best-selling Star Wars toy last year. Other former winners are now getting exposure on (ahem) Disney-owned networks, like ESPN and ABC. Or, in PR-speak: "Statmuse, an interactive sports stats platform powered by natural language search, is currently providing ESPN with statistical content; EMOTIV's Insight wearable for the brain was featured on ABC Television's The Bachelor." In short, Disney uses the program to get in with companies it thinks will be useful down the road. And that's a big deal because Disney is a big deal.
It's a particularly big deal this year because three of the companies chosen make products that could help Disney blur the line between fantasy and reality in its parks and elsewhere.
You may have seen this company's humanoid robot going viral and promising to destroy humanity. Her name is Sophia, and she is terrifying. She is extremely lifelike and makes creepily accurate facial expressions. Given that people are going to want robots to assist them around their homes, and for other, less upstanding services, and also that Hanson Robotics is at the forefront of this field, Disney's investment is a wise one.
Until Sophia is creeping around in every home, consumers will need other forms of entertainment to keep them occupied. Enter holographs. Enter, specifically, OTOY, the "holographic content platform bringing the power of light field rendering and network streaming to virtual reality and augmented reality experiences." The future's Pixar movies, then, could feature this all-immersive holographic VR and AR. Look at Disney, scooping up another big player.
The other VR company on this list is Jaunt. With both OTOY and Jaunt, Disney's locking down the VR game. Jaunt has already created one of the best VR cameras in existence, but its cinematic VR publishing platform is probably what arouses Disney the most. Its website makes it look like it could become VR's Netflix. (If we're to take Mark Zuckerberg's word for it, though, we will need to wait for 5G networks for that to become feasible.)