Gail Simone to Write a 'Red Sonja' Video Game
The She-Devil with a Sword will finally be getting a game.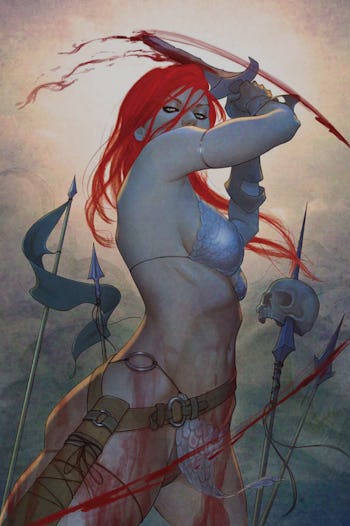 Dynamite Comics
Gail Simone, the comic writer best known for working on DC's Birds of Prey, Batgirl, and the Red Sonja comic for Dynamite, revealed on Twitter that she will return to the Red Sonja character as the lead writer on the upcoming video game.
Dynamite comics is partnering with Los Angeles based developer F84 Games to bring a "narrative-driven, action-packed" game. The title is slated for sometime around Winter 2016/2017.
Simone will be heading the plot, characters, and world for the game which will act as a continuation of her own work in the comics. That means fans of Simon's Red Sonja comics will see much of the same world and characterization that was critically praised during Simone's run of the character.
While there are no details about how the game will look like or play, F84 Games works primarily with mobile titles, so there is a chance that the game will be developed for Android and iOS smartphones. Also, since the game will be related to Simone's comic, the look and feel of the game should be familiar to her time with the character.
An avid gamer herself Simone says, "Mixing my favorite character, the She-Devil With A Sword, with my life-long love of games is a dream come true. We plan on making this a bloody, sexy, funny good time[.]" Those words are perfectly accurate to describe Simone's take on the comic who turned Red Sonja into a brutal warrior with aggressive wit and fearless sex appeal.