Encrypted App Signal, the Preferred Tool of Cleveland GOP Protesters
Activists in Cleveland use Signal to communicate with privacy.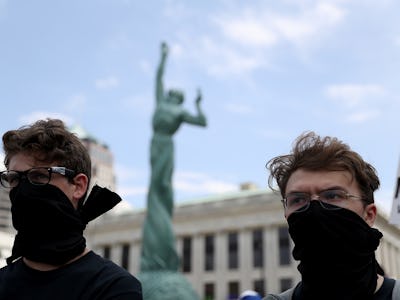 Getty Images / Justin Sullivan
Activists in Cleveland for the Republican National Convention are using the text encryption app Signal to keep their messages and voice calls from the prying eyes of law enforcement.
Matt McLaughlin, a Chicago organizer here to protest the GOP convention, said in an interview that using Signal has become a necessity for activists. He's personally on numerous text loops activists here are using to keep each other informed about any developments. In short, Signal promises the server "never has any access to your communication and never stores any of your data." It's also is free of the metadata (location, time, etc.) that comes with other messaging services. It's the preferred messaging app of Edward Snowden.
Why the extreme levels security? (Why not, you might ask.) Law enforcement agencies throughout the country use ISMI catchers, commonly called "Stingrays," to spoof cell phone towers and vacuum up large amounts of information from phones in the same location.
"With Chicago, there's a tangible need for encryption, because we've seen cops using Stingrays," McLaughlin said. "We picked up over that police scanner that they were trying to get information from a specific protesters phone."
There was another instance where protesters were using an app called SnoopSnitch, which allows users to spot cell towers, and saw one moving around.
Even with encryption, though, McLaughlin still tries to keep written communication to a minimum. "We're still careful about what kind of information we're sharing until we're in the same physical space," he said. Chicago police are known to confiscate phones of arrestees and attempt to unlock them, according to McLaughlin. Signal allows users to add an additional password to protect their information beyond a regular home screen lock.
One of Signal's strongest selling points is its ease of use. Unlike installing PGP encryption for email, which is famously laborious to install, Signal is as easy to use as any other texting app. WhatsApp also encrypts its messages by default, and uses the same core architecture as Signal.
Dan Massoglia, a Chicago attorney who regularly represents activists, is also in Cleveland for the protest. "Signal has had positive effects throughout the legal system," said Massoglia. "It ensures the attorney-client privilege that's written into law." He uses it with clients who are particularly concerned about security, and with his boss.
Facebook recently rolled out its own end-to-end encryption for its messenger app. Following the Snowden revelations, private companies are increasingly offering encryption by default for users who are more aware than ever of the threats to their privacy. That's a good development, but McLaughline is going to be sticking with Signal. "Given Facebook's history of working with the government, I wouldn't trust that that information will actually stay private," he said.