'American Gods' Will Push the Sexual Envelope Like No Other
Yep, they're definitely doing the orgasm of death scene.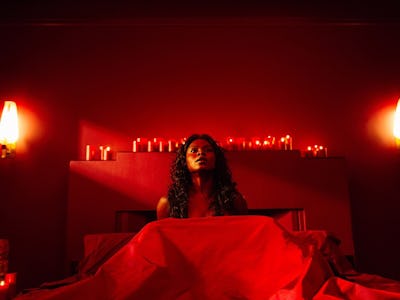 Vanity Fair, Starz
Neil Gaiman's American Gods has many strange, glorious, and obscene moments, but there is one that made all readers universally squirm: The deadly sex scene in which a man is swallowed whole by a vagina. It's a doozy of a scene on the page alone, and it's almost unfathomable to try and picture onscreen.
As soon as news surfaced that Gaiman's sprawling urban fantasy was going to be adapted for television, this scene, more than any other, was the question on everyone's mind. Nobody would have blamed the showrunners for skirting around it, but today they made it clear that oh yeah, they're going there.
Starz head of programing Carmi Zlotnik recently told Inverse he immediately saw why some people considered it unfilmable.
"When I went and read the book, I said, I understand why this hasn't been done yet."
But American Gods showrunner Bryan Fuller has said he's up to the challenge. "That came up in the Starz meeting, they were like, 'how are you going to do that moment? and we said, 'we're going to do it exactly as written."
Today, Vanity Fair released a photo of Yetide Badaki as Bilquis:
Every cable show likes to claim it boldly pushes the envelope in matters of sex, but American Gods might just be the one that takes the crown. Besides its absurdly perfect casting, the showrunners' willingness to go way outside the box is one more reason why
American Gods is set to put every other show to shame when it comes out in 2017.