Hyperloop One Co-Founders May Drop Most of Their Shares Amid Lawsuit
I mean, a noose, though!?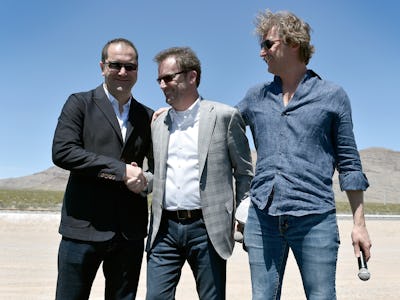 Getty Images / David Becker
Over the course of the past week, an explosive new case came out of Hyperloop One involving a lawsuit, crazy parties, and a noose. Company co-founder Brogan BamBrogan and 3 former Hyperloop One employees filed a lawsuit against board chair Shervin Pishevar. BamBrogan left his position at the company. Footage has been released of Pishevar's brother, Hyperloop One legal counsel Afshin Pishevar, allegedly on his way to drop off a hangman's noose at BamBrogan's desk as part of a reported mafia-style legal threat.
Now, according to sources close to the company, it seems as though Shervin Pishevar and board member Joe Lonsdale will be dropping a huge bulk of their shares and voting rights. Both of them are down to controlling only 20 percent of voting shares each, which is barely over half of their previous combined 78 percent.
Bloomberg says that their sources have reported a series of behind the scenes meetings over the course of the last few weeks in preparation for the move. The problem has been festering for a while — as early as May of this year, when BamBrogan and other employees began expressing concern over mismanagement and voting rights.
With the new voting proposal (which requires permission from the board to pass), the company's reported shareholder lineup includes engineer Josh Giegel, who is overseeing technology, with a 20 percent control of shares. Board member Justin Fishner-Wolf will also take on 20 percent, and a final 20 percent is still hanging in the air as a proposed board member is decided on.
It is important to note that most of this information has not yet been confirmed, outside of the denial of BamBrogan's restraining order.