Yelp's 'Pokemon Go' Filter Helps You Catch 'Em All
That local deli with the "No Pokemon Go" sign on the front is about to feel some regret.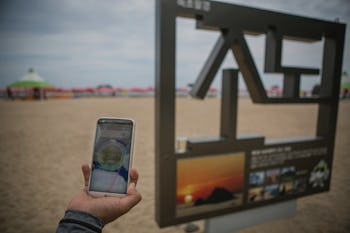 Getty Images / Jean Chung
No matter how you may feel about it, Pokémon Go has been a runaway hit for game maker Niantic Labs. The game's user base is huge no matter which way you slice it, and new discoveries are constantly being made every day. In the game, players are encouraged to visit designated murals, local businesses, and other landmarks within their city to either restock on items at a PokéStop or a gym. The phenomenon has grown so huge that most of those local businesses are embracing it as a way to encourage new customers with discounts and charger stations. Others are a little less than enthusiastic about who the game is bringing into their stores.
Some complaints are understandable, such as the polite request from the Holocaust Museum that asked for some space from trainers, but others are just Scrooge-levels of vitriol. Now, Yelp has designed a way for trainers to find businesses that embrace their love for Pokémon Go.
In a blog post today, Yelp's Associate Product Manager Will Cole detailed an all-new filter for fans of Pokémon Go. "Good news to all you Pokémon trainers out there: we know you want to be the very best (like no one ever was), so today we're launching a new feature and search filter to better help you catch 'em all," said Cole. "We know you're going to Diglett."
The filter is easy enough to use: log into the Yelp app and search for local businesses, then swipe the filter bar at the top until it reads "PokéStop Nearby". The filter is still in development, so Cole has asked Yelp users to contribute if their local PokéStops are missing from Yelp's lineup. To submit your PokéStop, all you need to do is check in and answer a few questions about the location.
At the moment, the feature is available for iOS and Android in the U.S., Australia, and New Zealand.