This Colossal Chinese Guan Yu Statue Is Ridiculously Majestic
The enormous statue of Chinese hero turned war-god challenges all comers to Jingzhou city.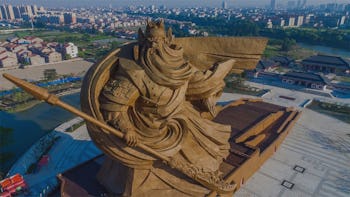 China is renowned for building stupidly-large statues, but it's really outdone itself with the latest monument to revered general turned war-god of the late Eastern Han Dynasty, Guan Yu. It's not the first enormous statue of Guan Yu, but it's clearly the most badass.
The statue is 190 feet of sweeping bronze artwork that looks like a set-piece out of Avatar: The Last Airbender (the fantastic animated series, not M. Night Shyamalan's pile of dog poop live action adaptation.)
The enormous shrine, made of 4,000 individual strips of copper, honors a real man who served during a troubling time in Chinese history known as the Three Kingdoms. Though the real man's life story is lost to history, his name became legend after his accomplishments were mythologized in the 1522 publication of the historic novel Romance of the Three Kingdoms. Now his imagined likeness — there are no actual contemporary descriptions of what he looked liked — seems to issue a challenge to all takers wishing to do harm to the shrine's home of Jingzhou City.
The pedestal itself is built to look like the warship that will carry Guan Yu out to sea and subsequently kick all kinds of ass. Inside, it's an 83,000-square-foot museum and shrine to the war god, because doing things subtly or small was not Guan Yu's style.
Usually, another giant statue wouldn't make viral news, but the 1,181-ton Guan Yu statue is almost comically majestic, with his copper beard and cape flowing triumphantly in the wind, and the internet is taking notice across the world.
From local coverage on China's CCTV Facebook Page:
To social media all the way across the globe in Venezuela:
Bad-ass apparently knows no borders, because people in Turkey were also in awe:
Regardless, it's easy to say designer Han Meilin took it up to eleven on the awe-inspiring scale. Guan Yu's steely gaze is fixed on the horizon, his trusty weapon the Green Dragon Crescent Blade well in hand, looking out at the world as if to shout "Come at me bro," in the most intimidating way possible.