11 Franchises Future Generations Will Want Rebooted
Move over Power Rangers and Ninja Turtles: Generation-Z wants Minecraft and Yo-Kai Watch.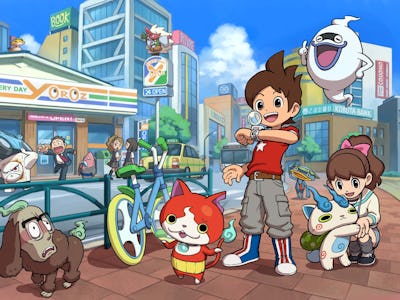 Nintendo
Here at Inverse we obsess over one question: what happens next? In 15years, what happens next could be a major, blockbuster reboot of something your little nephew is obsessing over now.
Nostalgia is a powerful market force that's birthed unholy movie franchises like Transformers and Teenage Mutant Ninja Turtles. But while those '80s cartoons have done a solid job sticking around past their expiration dates, there are a handful of newer children's franchises from the last 10 years that are raising a whole generation while we're being oblivious because of taxes and alcohol.
The way millennials look forward to (or dread) a big-budget reboot Power Rangers movie, Generation-Z will wait out at midnight on opening night to see…
Yo-Kai Watch
A breakthrough multimedia success not seen since Pokemon, the new Nintendo game Yo-Kai Watch has spawned manga, anime, and other assorted noises when it officially hit the U.S. after success in Japan at New York Comic Con last October. Kids are all about it now, as well as a few adults you should be wary of.
Ben 10
The sci-fi action cartoon Ben 10, about a boy who can transform into alien creatures with a powerful watch, debuted in late 2005 and has leveled up into a full-blown empire with toys, spin-off cartoons, and live-action feature films directed by Alex Winter, a.k.a. Bill of Bill and Ted. (Imagine if Keanu directed them, though).
The series will curiously reboot on TV this year in 2016, for some reason, but give it a few more years and some studio will give this thing the Hollywood treatment. Because they can.
Steven Universe
A breakthrough animated series that's won over kids and adults, Rebecca Sugar's Steven Universe follows Steven and three magical aliens embark on a never-ending quest to save the world. It's only a matter of time until someone tries Steven Universe for the big screen. Fear that day, for that day will prove nothing is sacred.
Gravity Falls
In 2012, Alex Hirsch's Gravity Falls joined the current generation of all-ages TV animation with its own flavor of humor and warmth. Focused on the tourist town of Gravity Falls that secretly harbors a supernatural presence, the show ended at its peak in early 2016. With a fanbase hungry for more, perhaps a nostalgic revival will earn big bucks in a decade or two.
Avatar: The Last Airbender/The Legend of Korra
While Avatar: The Last Airbender already had its chance at the big screen (and totally bungled it), the cult fantasy/martial arts Nickelodeon cartoon and its expansive mythology is ripe for another shot at becoming an expensive movie franchise. "And we'll do it right," you can expect to hear from the producers who probably grew up watching the cartoon. If not, then the Avatar epilogue/spin-off The Legend of Korra could become its own thing too.
Over the Garden Wall
Created from Cartoon Networks' development program, Over the Garden Wall is a richly atmospheric fantasy mini-series about two brothers who become lost in a forest ominously called the Unknown. A rousing success upon its premiere in 2014, Over the Garden Wall has the makings to become a sleeper phenomenon that could result in an equally atmospheric (or numbingly computer-generated) feature film.
Minecraft
The pixelated sandbox video game is one of the best-selling video games of all time that continues to thrive online with fan-made web videos and other new-media trends. There's already a movie on its way with Rob McElhenney (Yeah, THAT Rob McElhenney) signed on as director, but Minecraft is such a modern monster there would no doubt be another reboot in 20 years.
Five Nights at Freddy's
The indie game series Five Nights at Freddy's, a twisted parody on for-kids marketing establishments like Chuck E. Cheese, has somehow become a hit with actual kids, even though it frightens the bejeezus out of adults too (albeit with cheap jump scares). Warner Bros. is already working on a feature film adaptation, but given time and enduring popularity a reboot film is only inevitable.
Adventure Time
Arguably one of the most prominent shows to usher in the all-ages animation boom of the 2010s, Adventure Time is ripe for a bajillion-dollar budget movie adaptation. Like Five Nights at Freddy's and Minecraft, a movie is underway, and while details are scarce it sounds like it'll stick to being animated. But somehow, someway, someday, someone will try turning this weird-ass cartoon into live-action. Bet on it.
How to Train Your Dragon
It's already a prominent movie franchise with an equally popular follow-up television series, but DreamWorks' family fantasyHow to Train Your Dragon can easily become adaptable into live-action that straight-up demands a colossal budget. The Hobbit and its portrayal of Smaug showed it can be done, so expect the live-action How to Train Your Dragon to arrive on Blu-ray in like 25 years.
PewDiePie, A Movie of Pure White Noise With Him Doing Commentary The Whole Time
God is dead and this movie will be proof of that.