'Mr. Robot' Seinfeld Reference Becomes a 'Big To-Do' on Twitter
The show's two-part premiere included a nod to one of the internet's favorite 90's shows.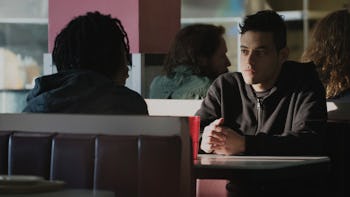 The season two premiere of USA Network's Mr. Robot delivered new twists to Elliot's life and his keen ability to wake up in places he shouldn't be. It also introduced a character named Leon, who meets with the protagonist at a diner for dismal meals where he muses about Seinfeld. Portrayed by 21-year-old Brooklyn rapper Joey Bad@$$, Leon was an instant hit with fans, who called for more of the character and his new TV obsession.
The rapper had to audition for the role of Leon and, after three callbacks, got the part. "I had to watch a lot of Seinfeld because my character is really in love with that show," he said when asked about his preparation. "What else? I watched the whole first season to know what was going on and where we was at." Either way, Leon became an instant fan-favorite, and fans reacted by plastering requests for more of him all over their timelines.
"Leon is just different," Bad@$$ told Rolling Stone. "Elliot pretty much doesn't talk, but Leon is really talkative. So I guess that's where the relationship works. Elliot can sit there and just listen to this guy just babble off about a whole bunch of random stuff, including Seinfeld. So they build a dope relationship over Leon talking and Elliot listening."
It might not be the opportune time to give Leon his own webseries, but one thing is for certain: Joey Bad@$$'s delivery of the lines was so effortless and tinged with fanboy glee that one can only hope this isn't the last we've seen of the character. "He really likes Elliot, and he really thinks he should look out for Elliot," said Bad@$$. "That's all I can tell you without getting in trouble."
Mr. Robot airs on Wednesdays at 10 p.m. Eastern on USA Network.