Shigeru Ban Will Build the Tallest Hybrid Timber Tower
It's beautiful and it's going to be a Vancouver landmark.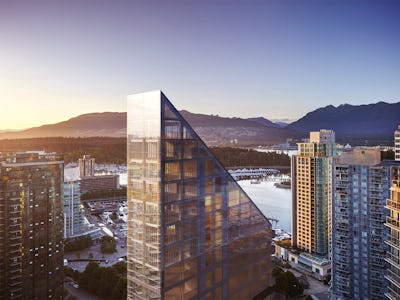 Shigeru Ban Architects
Japanese architect Shigeru Ban, known for his work with pulp products, notably paper and cardboard tubes, is bringing his lumbering talents to Vancouver where he will design a residential apartment building developers are calling the tallest hybrid timber structure in the world.
While building developer Portliving hasn't officially divulged the height of the structure, a statement from the company maintains the building's record-breaking material-height combination. "The project will set the benchmark for the tallest hybrid timber structure in the world, in addition to being Shigeru Ban's tallest project to date and first-ever project in Canada," Portliving said, according to a Dezeen article. The building, called Terrace House, is set to rise by the waterside in central Vancouver.
A rendering of Terrace House only shows a glass-covered building with a sloped roof, but Portliving said the upper portion will feature timber framing, made from wood sourced from British Columbia, supported by a concrete and steel core. "This innovative design marks a milestone for the industry and a global benchmark for timber design and livability," Portliving said.
The Terrace House is just the latest project that points to the immense potential of wood as a construction material, especially in terms of its environmental sustainability. Not only does logging and shipping wood produce fewer fossil fuels than sourcing traditional construction materials like concrete and steel, but wood actually traps carbon dioxide, removing excess amounts of it from the atmosphere. In addition to its friendlier environmental impact, wood is a comparably safe construction material. Rather than concrete and steel which melt and bend in a fire, wood chars on the outside while the core remains structurally intact.
Wood may be more expensive than steel and concrete, but building with timber actually speeds up the construction process, which ends up cutting costs by the time the project is completed. If you live in a city, chances are you've been woken up on Saturday morning by loud, grating noises coming from a concrete or steel construction site. Wood, on the other hand, produces less noise and less mess.
Lauded for his humanitarian and innovative wood-based architecture projects for victims of natural disaster, Shigeru Ban seems like a promising progenitor of the timber tower trend that's taken hold in forward-thinking cities around the world. For that reason, the construction of Terrace House could gauge the success of future timber-centric architectural endeavors. Rather than shouting "TIMBER!" to boost the drama of a falling tree, in a few decades, we may find ourselves exclaiming that same thing at magnificent, sky scraping towers in busy metropolitan areas.