New Aircraft Accommodates Overweight Passengers With Wider Seats
"You are now free to move about the cabin" rings truer now.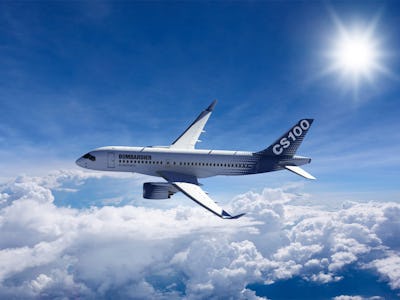 Bombardier
Canadian company Bombardier revealed its new plane for overweight passengers this week at the Farnborough International Airshow, an annual aviation festival in England. The CS100 aircraft, which holds 100 to 150 passengers, features middle seats that are 19 inches wide, more spacious than 17.3-inch wide Boeing 737 seats and 18-inch wide Airbus A319 seats, according to Dezeen. The window and aisle seats are also bigger than competing airplane models, clocking in at 18.5 inches wide.
Bombardier's VP of commercial operations Ross Mitchell said the CS100 was born out of airlines' requests for wider seats. "We went to airlines and asked them what the appropriate sizes were. They said 18-19 inches because it gives people more room in the seat. Airlines were looking to have an option with more comfort," Mitchell said. The modifications were made with contemporary passengers in mind, who on average are taller and heavier than in previous decades. In addition to wider seats, Bombardier's aircraft boasts wider aisles, larger overhead bins, and the largest windows in the current aircraft market.
The first CS100, which Bombardier delivered to Swiss International Airlines last month, will make its first flight on Friday from Zurich to Paris. The plane will also make flights to Manchester, Prague, Budapest, Warsaw, Brussels, Nice, Stuttgart, Hanover, and Milan. If things go as Mitchell has planned, airlines will order more than 7,000 of the CS1000 over the next 20 years.
Airlines are constantly tacking on amenities and developing new strategies to increase revenue streams. Even though the wifi isn't free and usually cuts out repeatedly, we now have the privilege to surf the internet while flying through the skyways. Early check-in, free checked bags, and electronic boarding passes incentivize us further. The additional space provided by the CS100, however, may be the ultimate gold mine as most people can agree that there isn't enough space on most commercial flights. Especially for the larger passengers who are made to feel uncomfortable by their squirming seat mates, extra leg room could be the answer to flying in comfort across the board. We're not promising the dude sitting next to you isn't going to snore, but you'll be able to inch a little farther away from him on the CS100.