'Pokemon GO' and Chill? Craiglist Full of Thirsty Players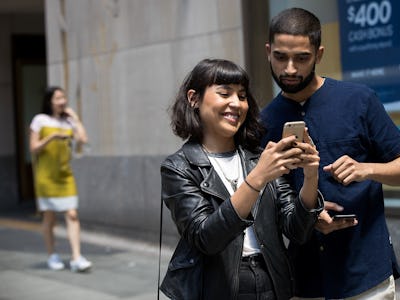 Getty Images / Drew Angerer
As with anything on Craigslist, most of the ads start out innocently enough. "So Pokémon GO is super addictive. I love going out and catching new and rare Pokemon," reads one ad by a 30-year-old man seeking a lady trainer to join him on his quest. But then, things get a little — well, predictable. "So let's go catch some pokemon then come back to my place, get naked, and fuck like crazy over our pokemon conquest."
This obvious member of Team Valor is just one of the many taking to Craigslist's personal ads and missed connections to connect with other trainers in their town. Most posts, like this one, seek a little bit of extra action on the side, such as one woman looking for a male trainer to "to get naughty and enjoy some adult fun" with after a day of hunting for pocket monsters.
Despite some particularly vicious bickering between the game's three teams — Valor, Mystic, and that other one — some trainers are willing to look past it for the sake of romance and a potential girlfriend who can drive them around.
With promises of Pokémon adventures, bodily fluids, and snacks, how could a trainer resist?
You don't even have to play the game for this one! Wow, how generous.
Well, at least this one can drive himself.
Most of these charmers go the extra mile to include a dick pic or their favorite photo from whatever Pokémon hentai they have saved on their phone. If that is simply too irresistible to you, it is always important to keep in mind that looking for a date through Craigslist is often akin to licking the sidewalk under your local highway underpass.
On top of that, robberies, kidnappings, and other bizarre happenings are already being reported involving the game, so while it is proving to be an increasingly great way to meet other people with similar interests, always make sure that you're not out looking for Pokémon alone — and that you're always with someone you know.