Rihanna's Favorite 'Star Trek' Character Is Geordi La Forge
The "Sledgehammer" singer is also a fan.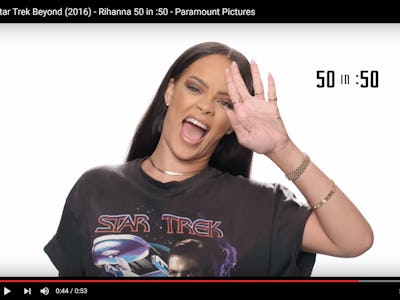 YouTube
It's easy to think that when musicians write songs for movies it's just another gig for the money to them with little thought to the culture they are representing. Turns out that's not the case with Rihanna, whose new single "Sledgehammer" is featured in the trailer for the new movie Star Trek Beyond.
The movie is not only the latest iteration in the franchise but it's also celebrating 50 years of movies, TV shows, books, comics, and the Star Ship Enterprise, which apparently will be destroyed at some point in the movie. It's prompted the franchise to encourage Trekkies such as Rihanna, to explain in 50 seconds what the series means to them for a video compilation called "50 in :50."
In Rihanna's take she explained why Geordi La Forge was her favorite growing up.
Star Trek has been a part of my life since I was a little girl. My dad really is the one who introduced me to Star Trek and it just took me one episode to fall in love with the characters and just this other world that I couldn't understand but felt like I could relate to. And it's never left me, you know once you become a Star Trek fan you never are not a Star Trek fan.
La Forge, that was my guy, I loved him so much, I just couldn't wait for his scene to come up and I would be always wanting to know what's behind his eyewear.
For those who don't know, Lieutenant Commander Geordi La Forge was featured in all seven seasons of Star Trek: The Next Generation and was played by LeVar Burton. In fact, she was so enamored with his character that she made a line of sunglasses inspired by the visor that allowed the blind La Forge to see.
Star Trek Beyond hits theaters everywhere July 22, and Rihanna's single is available on all streaming platforms. Watch the "50 in :50" bit below.