'Samurai Jack''s Genndy Tartakovsky Has A New 'Luke Cage' Comic
Sweet Christmas, the creator confirms that 70s versions of other Marvel heroes will appear.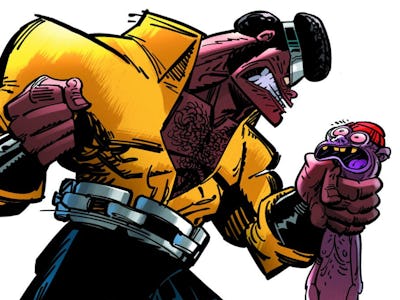 Gizmodo
Eight years ago, beloved Russian animator Genndy Tartakovsky, creator of Dexter's Laboratory and Samurai Jack, began working on a satirical Luke Cage comic for Marvel. The project dropped off, presumably because Tartakovsky was at work pitching a gorier Samurai Jack revival to Adult Swim, which the network accepted. Tartakovsky announced Friday that the book was back in the works, and that the first of four issues is due this October.
Rather than avoid much of the blaxplotatian tropes rampant in the original Luke Cage comics — as the Netflix series is sure to do — Tartakovsky has elected to tweak the tone into something satirical and self-aware.
Luke Cage, wearing his yellow, infinite V-neck blouse and silver head wrap from the original comics, tears the clothes right off a bad motherfucker in the first issue, and it is trippy as hell. It's also more than a little uncomfortable, given that Tartakovsky, a white Russian animator, is rendering the story of a black male hero who emerged during Marvel's attempts to cash in on Hollywood's blaxploitation craze in the 1970s.
Let's hope this comic, and the return of Samurai Jack, are both parts of an artistic revival for Tartakovsky, whose frenetic kids' series still look as striking as they did decades ago. Let's also hope that the comic's art, which Birth.Death.Movies proudly published, isn't as uncomfortable and offensive as it currently looks. Though he's worked on The Powerpuff Girls and Tiny Toon Adventures, Tartakovsky is at the top of his game when his projects have a sly edge to them. Many comic book fans and analysts, however, are worried that a Luke Cage comic is exactly the wrong project for the current time.
Tartakovsky, to his credit, has injected his particular, intelligent venom into projects as vastly different as Space Ghost: Coast to Coast and Steven Universe, finding a satirical through-line in a bunch of different stories. It's thrilling to see him get a second crack at Samurai Jack, which is one of the best animated series ever made, but watching him project his voice into the Marvel canon, particularly in this direction, will be…interesting. After all, Tartakovsky already created a funny superhero who's a parody of himself and his own genre in Jack.