Why the Return of 'Samurai Jack' Is a Huge Deal
Genndy Tartakovsky was creating smart, funny, dark cartoons before the trend was popular. Adult Swim has brought him back.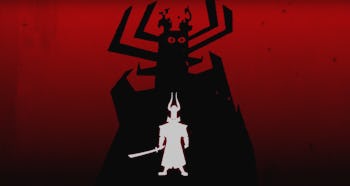 Cartoon Network
In the early 2000s, Russian animator Genndy Tartakovsky wrote and produced cartoons that engaged both children and their parents. He was responsible for complex programs like Dexter's Laboratory, The Powerpuff Girls, The Grim Adventures of Billy and Mandy, smaller projects including The Justice Friends, and of course, Samurai Jack. For years, Tartakovsky's animation block was the beating heart of Cartoon Network. None of Tartakovsky's shows talked down to their audiences, and the effect of each episode was often enhanced by this subtlety. His villains were truly scary, and his heroes were often in real danger.
Tartakovsky has proved himself both zany and heartfelt, macabre and earnest. His voice belongs in the animation world now more than ever, so Samurai Jack's revival is a sign of good things to come.
All the elements of each show seemed to matter to Tartakovsky, from Mojo Jojo's sad backstory to Dexter's relationship with his parents, and his programming taught many of us how to view animation, not just as a medium for children, but as an art form with unique abilities and signifiers.
Consider the fight scene in which Samurai Jack fights the Shinobi Shadow Warrior. Thematically, the warriors are represented by light and dark throughout the fight, and once Jack catches on to this relationship, he is able to fight more efficiently. The entire episode is an homage to how beautiful martial arts films can be, and it's delivered in an artful way only possible through animation.
By all accounts, Samurai Jack was just too cool, too sublime in its style for Cartoon Network at the time. Though The Powerpuff Girls included similarly styled scenes of violence, all the movement in Samurai Jack, from Jack lunging toward a villain to a minute facial expression, felt lyrical. For every static, Dragonball Z-style showdown between Jack and a villain, there followed a well-paced fight that was both a dance between characters and a chance for Tartakovsky to show off his mastery of light and dark, color and movement.
The show's return is confirmation that we're in a renaissance of solid, plot-based animation meant for both children and adults. Queer storylines are appearing with more honesty on shows like Steven Universe and Adventure Time than on regular, live-action programming, and comedic actors are turning their talents to complex, unique children's programming like Regular Show, The Amazing World of Gumball, Clarence and We Bare Bears, which features performances from Demetri Martin and Patton Oswalt.
Though contemporary animation for children is getting better and better, Cartoon Network is still missing programs for viewers with darker sensibilities. When The Marvelous Misadventures of Flapjack was cancelled in 2010, it left a hole in the network's programming that needed to be filled by something creepy. That hole had previously been filled by Samurai Jack and Courage the Cowardly Dog, in the early 2000s. Jack's propensity for darker storylines will be as appreciated now as it was in 2001.
Although Samurai Jack has proved itself capable of lighter fare (see "Samurai Jack Learns to Jump Good"), the real friction in the show occurred between Jack and his nemesis, the huge demon Aku. By reviving its beloved series, Cartoon Network is placing a story with real grit, and high stakes amidst the candy-colored, albeit smart, chaos of its other series.
Samurai Jack was, all at once, a functioning samurai story, a sci-fi time travel drama and at its base level, a funny, action-packed cartoon. That blend of genres felt new when the show originally premiered, and it's still a fresh idea today. Those of us who grew up wondering if Jack was finally going to find a portal back to his home world are rejoicing at the news of his return, but the series is sure to earn a new generation of fans.