New 'Mr. Robot' Scene Premieres Live on Facebook
The minds behind the unconventional show used Facebook Live to film a scene from the upcoming second season.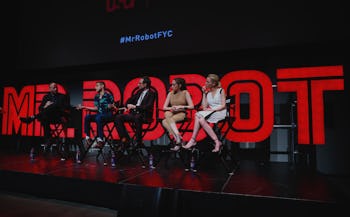 Getty Images / Mark Davis
The revolution has just begun.
Ahead of next week's Season 2 premiere, the team behind USA's Mr. Robot - or, ahem, fsociety — "hacked" Facebook Live to deliver a special message on the show's official page. The hack itself is a big event meant to promote the show in countries around the world. "It's nearly time," the mysterious, livestreaming fsociety agent told viewers who were watching live. "Five/Nine was just the beginning," stated another teaser video posted on July 5.
In the hours leading up to the live broadcast (which won't be the last, according to the page) posts were shared as reminders, promising messages of truth, change, and revolution. "Today we will make the world listen," an authoritative figure in a top hat and matching fsociety mask proclaimed in one of the clips.
In the aftermath, fans went into a frenzy after series-favorite Tyrell Wellick (Martin Wallström) removed the mask and revealed himself as the mysterious fsociety member. Tyrell is working alongside series star Elliot (Rami Malek), who closes out the clip by grabbing a bag full of fresh popcorn, ready for the entertainment to begin. The immersive use of Facebook Live has left fans dizzy with questions.
Mr. Robot has made a name for itself with immersive campaigns like this one. Its launch brought forth innovative uses of social media outlets and a level of interactivity to hook fans early, before the show even debuted. The show's second season premieres on July 13th, and anyone looking to catch up on the first season can catch on Hulu and USA's official site.