El-P's Twitter Breakdown About Pokemon GO is a Logical Reaction to an Epidemic
The Run the Jewels rapper/producer went through an existential crisis after Tweets disparaging Pokémon.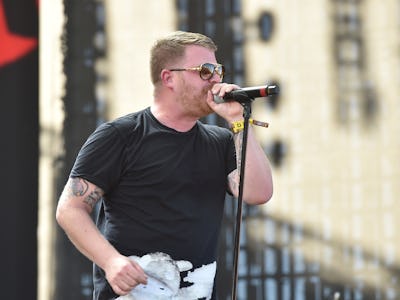 Getty Images / Kevin Winter
Your humble author had three people bump into him while walking around his home city. His assailants were scouring for digitally-rendered Pokémon on and around the pavement on which they were walking. It is understandable that, for someone who is in their 30s and 40s and did not grow up in the era of Pokémon — or anyone that just wasn't paying attention — would be annoyed by Pokémon GO culture. Few could have expected that the card game they remembered from middle-school lunch would have spawned such a following.
To those people, it was eye-opening when Pokémon GO dropped at the end of last week, topping the app store and making Nintendo a small country's military budget. What in true hell? the uninitiated thought.
Run the Jewels rapper El-P was one of the hoards of bewildered plebians horrified by the scores of people darting around the streets of New York glued to a Snapchat window with a special Poké-filter. He took to Twitter to express his frustration and culture stock in several long series of Tweets. At first, perhaps, his jibes were a bit on the vicious side:
We live in times where certain types of online vitriol are haunting. And when El, perhaps ill-advised, found room to make a lethal comparison, that's when the hate-mentions got bad:
This is where things started to go off the rails for the legendary alt-rap rapper/producer. The absurdity of the situation pushed him, too, past the frontier of reason:
Then:
The long day's journey into night continued from there, with El claiming he'd been hacked and none of the Pokémon tweets were his. Then, a new post, betraying El's disbelief that the Poké-franchise had survived and even burgeoned over the course of twenty-plus years:
Then, a musical paean for forgiveness:
And then… a contest for the best remix of the song.
This is the plight of the Pokémon GO skeptic dramatized in raw, beautiful, Storify-able form. #2016. Ultimately, perhaps the remix contest, and the overall reaction, made El understand that Pokémon is truly bringing people together in unexpected ways.
No word yet on how El's gamer gaffe is affecting Run the Jewels sales figures. But if you've been following the rest of the news during the past week — and then, out of nowhere, been almost trampled on by youths and adults alike scurrying to some poor, unassuming library to catch Mr. Mime — you'd might well have a bit of a breakdown from observing the dichotomy as well. Have a little understanding, Pokémon zealots.
Follow this developing story at El-P's Twitter.