This Run the Jewels-Inspired Cover for Ta-Nehisi Coates' 'Black Panther' Is Legit
Not all people who listen to Run the Jewels read 'Black Panther.' But all 'Black Panther' readers listen to Run the Jewels.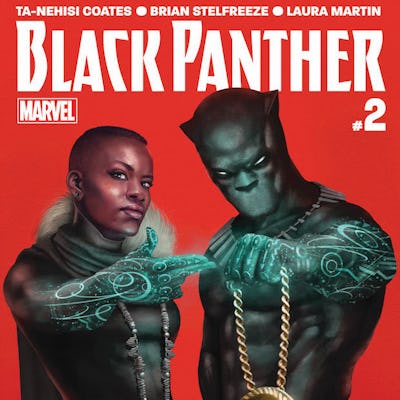 Marvel Entertainment
Marvel's latest volume of Black Panther, penned by Atlantic national correspondent Ta-Nehisi Coates and illustrated by Brian Stelfreeze, has already generated acclaim just two issues in. With issue #2 entering its second printing, Marvel continues its popular line of hip-hop variants (alternate covers for collectors) with an homage to Run the Jewels' second LP Run the Jewels 2, featuring T'Challa, a.ka. Black Panther, and Shuri against a vibrant red backdrop. Artist Rahzzah illustrated the cover, and will it will be released June 15.
This second part to Coates's ambitious storyline, "A Nation Under Our Feet," the issue continues Black Panther's struggle to maintain order in his kingdom of Wakanda. Issue #2 was released on May 11 and sold out quickly.
This isn't the first time Marvel paid homage to the hip-hop supergroup. Last year, Marvel's Deadpool and Howard the Duck comics also had its characters pose in similar fashion to the albums.
"You might not admit it on record, but you talk to almost every rapper — we all grew up with that shit," said one-half of Run the Jewels, El-P, to CBR at the time. "I guarantee you, like, 80 percent of any rappers that you meet probably went through a large comic book phase."
Dope, right? That's not all: Run the Jewels' "Oh My Darling (Don't Cry)" has been used to promote the series in Marvel's new YouTube series that dives into the background and conception some of its current books.