Daniel Wilson's Animal-Shaped Doorstops Are Blowing Up Reddit
His DIY stops are charming, useful, and best of all, easy to make.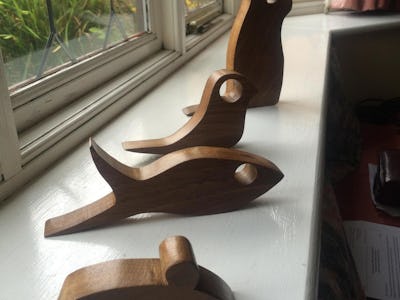 Imgur/ididitmyself
It doesn't require a lot of effort to adorn your house with DIY flourishes — just a generous dose of creativity. Daniel Wilson, a 25-year-old high school politics teacher living in England, knows this to be true, which is why his DIY animal-shaped, wooden doorstops have caused a delightful ruckus within the Reddit community.
In his original Reddit post, Wilson details the simple process he followed to make these show-stopping doorstops. He salvaged some scraps of hardwood — so the door doesn't dent the stop — and used his scroll saw to achieve the "sweeping curves" of the various animal shapes and a spade drill bit to carve out a big chunk for the eye. After some routine sanding and varnishing, Wilson's creations were ready to stop some doors and look really cute in the process.
Wilson's series of animals-turned-miniature-wooden-statues began when he came across a bird-shaped doorstop on Pinterest. Having recently purchased a scroll saw, Wilson figured the gentle curves of the doorstop's design would be an apt test for the tool. "I wouldn't be able to do that with a hand saw, which is usually what I'm using, so it was a good opportunity to try out those flowing shapes," Wilson says over Skype.
After successfully copying the bird doorstop he saw online, Wilson began pondering other animal shapes. "Well, they need to have tails to go under the door, so that immediately wipes out a bunch of animals," he says, revisiting his thought process. A fish came next and led Wilson to realize the crux of his design approach: simplicity. "I started going for the sweeping curves and the aim was to try to get something which looked like the animal, that was recognizable while still being super simplified. That was the tough part." By the time he had finished a bird, fish, cat, mouse, and a chihuahua, Wilson had developed a totally distinguishable design, trademarked by simple curves and the strategic placement of an eye.
Instead of selling his creations, which he could easily do, Wilson has been gifting them to friends moving into new homes. "I don't want this to become something I feel like I have to do. So I quite like just giving stuff away and not selling it," he says. Several people have messaged Wilson asking to buy his animal doorstops, which is when he likes to politely remind people of the subreddit he posted the project under. "Do it yourself," he laughs. "It's really straightforward."