'Batman: The Killing Joke' Will Be Fathom's Biggest Theater Release Ever
The adaptation of Alan Moore's influential graphic novel will be Fathom's widest event across the U.S.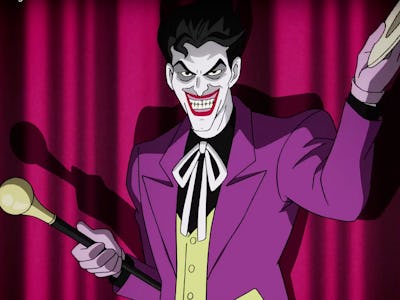 DC Entertainment
Anticipation among comic book fans for the film adaptation of Alan Moore's seminal graphic novel Batman: The Killing Joke has led to Fathom Events' widest-ever release. The organization that typically broadcasts concerts, operas, and live sports to theaters has booked 1,130 cinemas across the United States for the theatrical release of The Killing Joke on July 25.
The Bruce Timm and Sam Liu-directed animated film — controversially Rated R — will only run for one night with a DVD and Blu-ray release on August 2, Variety reported today. The level of interest "exceeded expectations," and prompted Fathom to increase the number of participating theaters.
"There's a level of excitement thats been generated because of the iconic nature of the film," said Fathom VP of Studio Relations Tom Lucas.
Based on Alan Moore's 1988 story about Batman's arch-nemesis, the Joker, The Killing Joke stars Kevin Conroy and Star Wars alum Mark Hamill reprising their roles as Batman and Joker from the Emmy-winning animated Batman TV series from the early '90s. Fathom's theatrical release will include a special introduction from Hamill, a documentary about Hamill and his passion for Moore's influential comic, and a behind-the-scenes look at the making of the film.
The 95-minute Batman: The Killing Joke shows in theaters for one night on July 25 (7:30 and 10 p.m. local time) with a home-video release on August 2.