'Batman: The Killing Joke' Will Show in Theaters for One Night Only
Kevin Conroy and Mark Hamill return to voice Batman and The Joker for this one-night event before 'The Killing Joke' debuts on DVD.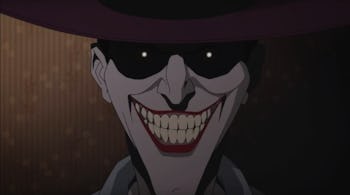 Warner Bros / DC Entertainment
One of the most controversial stories in DC Comics history is about to debut as a full-length animated feature film. The Killing Joke, Alan Moore's tale of the madness that surrounds the Joker is set for release on Digital and DVD at the end of summer, and will serve as a reunion of Kevin Conroy and Mark Hamill, who voiced Batman and the Joker, respectively, in Batman: The Animated Series. Now, fans who wish to watch the movie on the big screen have been given a chance to do so for one night only.
According to a press release from Warner Bros., Fathom Events is running special screenings in cities across the U.S. on Monday, July 25th. There will only be two showings — one at 7:30 p.m. and 10:30 p.m. local time. Don't panic if you're just now hearing of this, either: tickets won't go on sale until Friday, June 17th. Fans can grab their tickets via Fathom Events at all participating theaters (detailed in that link as well).
The movie is rated R and is set to feature several other familiar voices from past DC projects, such as Tara Strong, who will return to the role Barbara Gordon (a.k.a. Batgirl). Strong is known for voicing other DC staples, such as Harley Quinn in all of the Arkham video games. Ray Wise, who is possibly best known for his role as Leland Palmer in Twin Peaks, will voice Commissioner Gordon. Other familiar DC names include composer Kristopher Carter, a screenplay by Brian Azzarello (Batman: Gotham Knight) as well as Executive Producer and creator of so many DC icons, Bruce Timm. All of this falls under director Sam Liu, who may be one of the biggest names in DC animated movies and TV shows of all time. For non die-hards, Liu has had a hand in over three decades' worth of DC projects, including the Teen Titans TV series, Batman: Year One, Young Justice, and Batman: Bad Blood.
Those who manage to make the screenings will be treated to two special features — one exclusively for that night. First up, Mark Hamill has recorded a "special introduction" for the fans. Later in the night, a feature on an all-new musical number led by Hamill as The Joker, which promises to be absolutely twisted in all of its song-and-dance glory.
The film will premiere at San Diego Comic Con, then released to the masses on August 2nd.