Tesla and Chevrolet Accused of Killing Flamingos in South America
A report from 'Bloomberg' today connected both Chevrolet and Tesla to dangerous mining in South America that is allegedly killing local flamingos.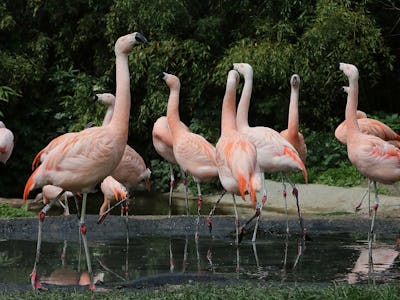 Getty Images / Hannelore Foerster
Both Tesla and Chevrolet are preparing to roll their product out to the mass market next year, and the path so far has been nothing short of rocky. Most recent headlines are pointing fingers at Tesla for the recent tragic death of a Model S owner whose window was crushed inward after the car sailed under a tractor truck. Tesla founder Elon Musk has stood firmly against accusations of a deadly future on Autopilot, and the company has moved forward with its work, issuing their condolences as they work with the police.
Needless to say, now was probably not the opportune time for another accusation to spring up against self-driving cars, but that ended up being the case this week thanks to a new report that fires off at the companies for an alleged involvement in lithium manufacturing that is killing flamingos in South America.
Scientists in Chile have begun speaking out against the mining of lithium in the area, saying that the water sucked out in the process is killing both flora and fauna in Salar de Atacama — including the region's wild flamingo population. Biochemist Rolando Humire Coca, who heads the Naturalist Society of San Pedro de Atacama and is a member of Chile's National Institute for Human Rights, is among the many speaking out against the mining. "The salt flats are like a complex pipe system; if you take water from one side, it will affect the other," Humire Coca told Bloomberg. "Fifteen years ago I used to swim surrounded by flamingos in the Cejar lagoon, and today you are lucky if you see one there."
Bloomberg reports that the two primary mining companies in the area, Rockwood Holdings and Soc. Quimica & Minera de Chile SA, are responsible for the ongoing problem, which parliament has yet to act on. The companies are pumping over 1,650 liters of brine a second from an increasingly shrinking landscape, and Rockwood plans to ramp that up by 443 liters soon to meet client demand. That, though, is where the connection stops, thanks to a stark lack of named evidence. The mining companies have not publicly identified their customers, and the only real comment in response was a dismissive tweet from Musk that mocked the insinuation of him killing flamingos.
Of course, that doesn't make this problem any less real. "If they keep using the same methods to extract water, the consequences will be disastrous," said Humire Coca. "All forms of life will be destroyed."