Watch the Trailer for National Geographic's 'MARS'
National Geographic's big-media event tackles life on Mars.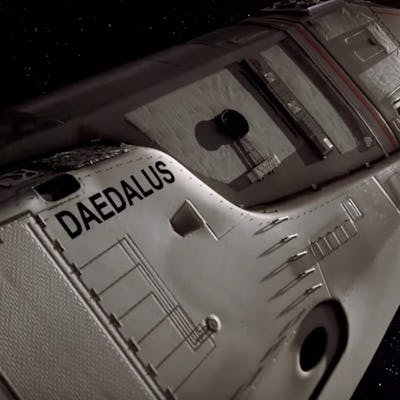 National Geographic
National Geographic released the first trailer for the fall release of its ambitious new event series today, MARS. The hybrid, scripted docuseries will be a six-part story about colonizing the red planet.
The trailer begins with an appropriately moody narration by a woman over the image of an Earth, and as the camera pulls back, we see it's a depiction of Earth on a spaceship named Daedalus, after the mythological Greek craftsman who created wings for his son, Icarus. As the CGI ship veers into the crimson orbit of Mars, their mission is revealed: to make the planet a new home.
MARS, which will premiere in November, is produced by Ron Howard and Brian Grazer's Imagine Entertainment and RadicalMedia, and it will be the centerpiece of Nat Geo's big media push. MARS will combine documentary sequences about real-life efforts to travel and colonize Mars, with a dramatized story in which two Asian-American astronauts venture to Mars in 2033.
A digital-only prequel series, Before Mars, will focus on the two astronauts before they ship off planet. Joon and Hana Seung are twin sisters who find themselves in a rural American town after relocating with their mother. One of the sisters finds a ham radio which allows her to befriend a female astronaut on the International Space Station. Before Mars will be directed by Lloyd Lee Choi, while MARS will be directed by Everado Gout.
There is currently no release date for the Before Mars prequel series.
In a television landscape increasingly dominated by cinematic shows from channels like AMC and HBO, National Geographic is responding with an ambitious project of its own.
While details are still sparse, National Geographic is promising an ambitious event which will combine their science programming with social issues that appeal to millennials.