America's First Autonomous Car Laws Are Coming
Regulators appear to be on the side of innovation.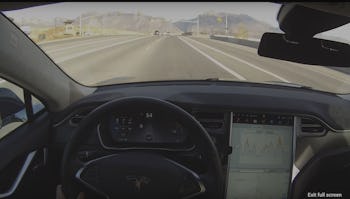 YouTube
Tesla is under the microscope following the death of Joshua Brown, a Model S owner who died in Florida when he and the company's autopilot feature failed to recognize a truck merging lanes, and that event may spur the National Highway Traffic Safety Administration (NHTSA) to suggest new regulations policing autonomous vehicles as early as this month.
In February the NHTSA said it would release new rules "within six months," but now that the first fatality from an autonomous vehicle has occurred before the release of the rules, there's even greater pressure on the agency.
It's clear that tech companies that are developing these autonomous systems such as Google and Tesla are worried that regulations that are too heavy handed will stifle innovation in this space. However, in NHTSA's February statement, it was clear they too are on the side of advancing autonomous technology for the benefit of more lives saved on the roads.
"NHTSA will use all available tools to determine the safety potential of new technologies; to eliminate obstacles that would prevent or delay technology innovations from realizing that safety potential; and to work with industry, governmental partners at all levels, and other stakeholders to develop or encourage new technologies and accelerate their adoption where appropriate," the administration wrote.
Still, senior administrator Mark Rosekind during a panel at the TU-Automotive auto-tech conference in Novi said the rules might be more rigid than people initially expected.
"What is unusual is everybody expects regulation comes out and that's what it is forever, and NHTSA's job is to react and enforce it," Rosekind said. "That will not work with this area. I think we're going to have something different in July."
Automated driving actually falls under a spectrum. Power steering, for instance, is a very low form of autonomy and cruise control is a step above that. NHTSA already lays out a series of five levels of autonomy and many speculate that the administration will look to update those rules for modern technology.
Although the administration has given little indication that it will force Tesla to temporarily rescind its autopilot feature, that's precisely what some are predicting is in play for the regulations later this month.
"There will be repercussions" in regulations, Dean Pomerleau, a Carnegie Mellon University professor who has worked on driverless cars for 25 years and led several NHTSA research programs, told The Wall Street Journal. "I think NHTSA is going to want Tesla to turn off Autopilot, at least until they learn more."