Uniqlo and Nintendo Develop Superior Gaming- Shirt Technology
Shigeru Miyamoto will be the judge of Uniqlo's Nintendo-themed t-shirt design competition.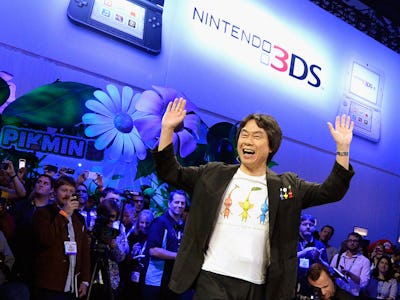 Getty Images/Kevork Djansezian
The selection of clothes at Uniqlo is all-purpose enough to fit into anyone's wardrobe, but the Japanese retail company adds some flourishes once a year for its t-shirt design contest. This year participants of the Uniqlo t-shirt design competition will be required to submit an entry inspired by another iconic Japanese brand: Nintendo.
This competition awards its players with with much more than just a pat on the back. The winner will receive $10,000 and the design will become available in Uniqlo stores in Spring 2017. For the real nerds out there, the most exciting part of Uniqlo's t-shirt design competition may be the fact that none other than Nintendo's Shigeru Miyamoto will judge of the winning design. Participants are encouraged to incorporate Mario, Donkey Kong, Zelda or any other historic Nintendo characters into their designs to create the ultimate gaming t-shirt.
Exactly why Uniqlo chose to partner with Nintendo is a bit of a mystery, albeit a charming one. Forbes lists Uniqlo's parent company Fast Retailing as the 766th biggest public company in the world, while Nintendo lags way behind in the 1,436th spot. For the 766th largest company in the world to partner with the 1,436th largest company in the world for synergistic purposes is slightly curious as Nintendo's low ranking on the Forbes list probably won't help Uniqlo boost sales or clout in a major way. Perhaps the decision was born out of the perceived potential for appropriate crossover and Japanese solidarity rather than a desire to boost profits.
If the t-shirt design that wins the competition indeed becomes the supreme gaming t-shirt, maybe that will broaden Uniqlo's customer base, ushering in thousands of gamers who desperately need to bolster their gaming image. It doesn't sound likely that the future of Uniqlo's success rests upon a gaming t-shirt, but who knows? The world is really weird sometimes. The competition is open to participants of all ages from anywhere in the world who have until August 31st to submit as many designs as they want.