How an Artist Suspended BMWs From a Massive, Six-Pronged Sculpture 
Gerry Judah pushed the boundaries of engineering for his latest installation.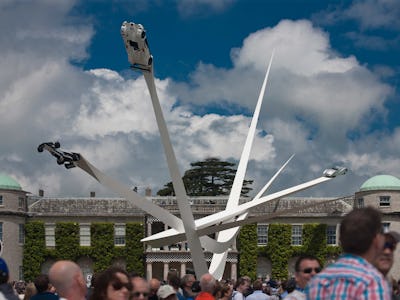 David Barbour
Designing massive sculptures that suspend cars hundreds of feet above eager audiences is certainly not new territory for Gerry Judah. Each year for the Goodwood Festival of Speed, an annual hill climb featuring iconic motor racing vehicles, Judah creates an enormous sculpture that acts as a centerpiece for the major auto show event. This year Judah paid homage to BMW by constructing a six-pronged steel sculpture with notable and fully functioning BMW cars suspended 130 feet in the air.
Commissioned by BMW to build the sculpture for the German car brand's one-hundredth anniversary, Judah displayed the BMW 328 Mille Miglia Roadster, the Brabham-BMW BT52 F1, and the BMW V12 LMR in this year's sculpture. Whereas defunct models are most commonly used for these kinds of purposes, the cars in Judah's sculpture are operating vehicles. The steel, skyward-pointing spikes that host the three cars, two of which are suspended upside-down, are supposed to look like the cars' trails.
Get a load of these Bavarian Motor Works whips flying through the air like one of those carnival rides that used to come to the town square back in the day:
Last year Judah suspended two Mazda race cars at the top of a twisting track, a design inspired by Enzo Mari's letter opener blade from 1962. In 2014, Judah dedicated his sculpture to Mercedes-Benz with two race cars that looked as if they were zooming by each other. Judah has been commissioned by other car companies like Porsche to construct similar sculptures that feature suspended cars.
Each year Judah tries to make his Goodwood art piece even more daring than the last. "The main challenge is to come up with something different, enormous, and dangerous," Gerry told Dezeen. Still, his driving goal year after year is to create a sculpture that mirrors the audacity and historical importance of the cars on display. This year Judah takes pride in the structure's impressive weight support, in particular. "The enormous cantilevers balancing on one point needed the right elements to allow me to stretch the arms as far as I could take them. This really was an engineering feat," he said.