Say Hello To My Little List of De Palma Movies That Need Collector Editions
After 'Carrie,' what De Palma classic deserves the 4K treatment?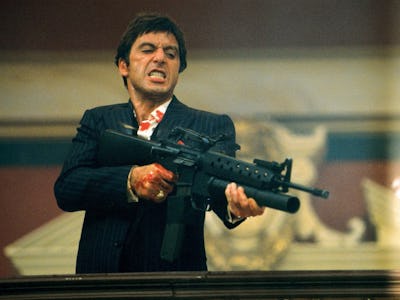 The Boston Calendar
Influenced by Alfred Hitchcock and associated with his contemporaries – Steven Spielberg, Martin Scorsese, and Star Wars maestro George Lucas – Brian De Palma has long been revered by lovers of cinema. But now, his appreciation by the mainstream masses is growing beyond Scarface dorm room posters, and into his more oblique works, like Body Double and Blow Out. Hell, even Mission to Mars is gaining traction.
On the trail of Noah Baumbach and Jake Paltrow's celebratory doc De Palma, Shout! Factory branch Scream Factory will release De Palma's 1976 iconic adaptation of Stephen King's Carrie in a beautiful collector's edition Blu-ray (with 4K restoration) on October 11. But while that's fantastic, there are plenty of other De Palmas that deserve new life. Here are a few select Brian De Palma movies that deserve a souped-up Blu-ray release – and the sooner the better.
Greetings
Only the third film from De Palma, Greetings featured an incredibly young Robert De Niro as a man evading the draft of the Vietnam War. Greetings demonstrates De Palma at his spunkiest, making do with what little he had (you can imagine he'd use Steadicams and comprehensive tracking in a montage of characters wandering Central Park) still resonates as the sharp war satire as it did back in 1968. For a known auteur like De Palma, his films that show his earlier stages deserve a refreshing look.
Home Movies
A tiny, crude comedy De Palma made as a hands-on assignment for students at his alma mater in Westchester, Home Movies sported a robust cast (Kirk Douglas, Nancy Allen, the late Theresa Saldana) with would-be producers like Gilbert Adler (Constantine, Superman Returns, and Valkyrie) working behind the scenes. Experimental in form but tightly structured, Home Movies is more than worth revisiting over thirty-five years later.
The Wedding Party
Made in 1963 but not released until De Niro's name started meaning something, The Wedding Party is a hyper-stylized comedy from theatre director Wilford Leach and his two students, Cynthia Monroe and De Palma. Leach seems more in control with direction emulating that of the theatrical stage, as is the film's overall exaggerated feel. But it's De Niro in an old movie that is just a few notches above student film, made by the guy that would do Scarface. The Wedding Party deserves life beyond YouTube uploads.
The Untouchables
You can already buy The Untouchables on Blu-ray, but De Palma's period pulp homage deserves a much better release than something that lists the "Trailer" as a special feature. For a modern classic whose tracking shots are studied in film courses today — mine included — The Untouchables is above the Walmart bin where I procured my copy.
Carlito's Way
While Scarface starring Al Pacino tends to overshadow everything in De Palma's oeuvre, Carlito's Way was especially overlooked in its time but is now gaining appreciation in hindsight. Starring Al Pacino, Carlito Brigante is a Puerto Rican ex-con trying to turn over a new leaf when he's dragged back into a life of crime against his wishes. At the turn of the 21st century, hip-hop culture began channeling Carlito's Way in music, as in the case of Jay-Z, or in crime-influenced video games like Grand Theft Auto: San Andreas. There was also a prequel movie in 2005, but the less said about that the better.
Like The Untouchables, a Blu-ray is also available but it's pretty bare bones compared to what a film of its caliber deserves.
Scarface
Yes, Scarface. It's been remembered as a classic for a reason: It's good, it's important, it's De Palma at his best. But despite its immortal place in cinema and pop culture, a comprehensive Blu-ray is lacking. There's a decent one you can snag for about ten bucks, but like the aforementioned classics it's nothing on the level a film of its significance deserves.