Neil Gaiman's Heads Back to a Familiar Well
Will fans see this as letdown? Or celebrate?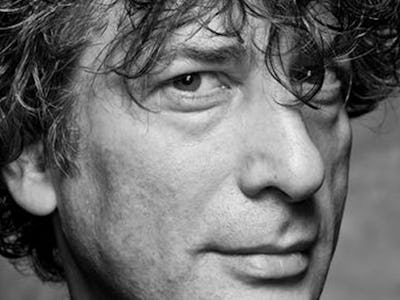 If you've been following Neil Gaiman's Twitter account the past few days, you know the ridiculously-popular fantasy author has been teasing out a reveal for his next book. And after baiting his fans about the mysterious book he's been working on for three years, Gaiman also tweeted an image of a small detail of the book's cover. The hype machine pointed to something big. Was the next book American Gods 2? Could Gaiman be returning to world of his popular comics series, Sandman? Or maybe another instant-classic young-reader novel like The Graveyard Book or Coraline?
Instead, it's a book called Norse Mythology which is – you guessed it - Gaiman retelling Norse mythology:
A hardcore Gaiman fan knows there are many precedents here. First, Gaiman's whole deal is founded on his ability to re-imagine fairy tales, folk stories and myths. From American Gods to his crazy-good Terry Pratchett collaboration Good Omens, he's is the undisputed lord of making dusty-old tales new again.
Not to mention, Neil Gaiman has actually done this exact-same-thing before with his Norse myth-action 2008 children's book Odd and the Frost Giants:
If youre the kind of person who gets her Norse myths from Marvel movies, then you're vaguely familiar with the Frost Giants, and wildly familiar with gods Thor, Odin, and Loki. All of this Norse zeitgeist action could make this book totally awesome, or, on the other hand, a little dry. And while Gaiman told the New York Times on Wednesday that "…the opportunity to retell the myths and poems we have inherited from the Norse was almost too good to be true," this could scan a bit as a humble brag.
In terms of the books he writes, Neil Gaiman can pretty much do anything he wants, meaning we could probably substitute "opportunity" here for Gaiman's own personal whim. Are we excited for anything Neil Gaiman puts out, or would we rather devour a straight-up new original novel?
To be fair, Neil Gaiman is absurdly prolific. This year has already seen the release of his essay collection A View from the Cheap Seats, which is hot on the tail of his last short story collection Trigger Warning. And yet, it's been three years since the fantasist has released a new novel completely written just by him. (He's given story credit for the Michael and Mallory Reeves penned series Eternity's Wheel though he didn't write those books.) So, his last full novel – The Ocean at the End of the Lane – while brilliant, was also a bit on the short side. And even though Tom Hiddleston will undoubtedly do the audiobook for this new project (we're calling that right now) Norse Mythology doesn't sound like Gaiman's next big hit. This feels more like a side project.
(Meanwhile, American Gods, the hour-long Starz TV series based on his book — he's an executive producer — is in production and is tentatively set to debut in early 2017.)
With a fanbase with a hungry appetite that only gets hungrier with each book release, it can't be easy to be Neil Gaiman. But when all anyone craves is the full meal of a new original novel, Norse Mythology feels a little bit like table scraps.
Neil Gaiman's Norse Mythology is set to be published by W.W. Norton in February 2017.