How Twitter DMs Are Part of London's Plan for a Hi-Tech Transport Future
Sliding into your DMs with some travel disruption.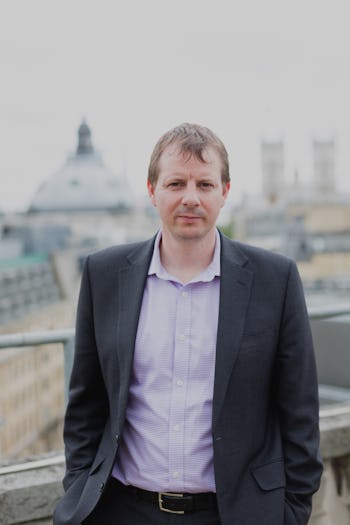 Transport for London
You may not know Phil Young, but he's one of the most important figures behind helping London run smoothly. He's head of online at Transport for London (TfL), the man in charge of making sure data gets delivered and commuters can plan their journeys. TfL's online services have pioneered new ways of using technology, and with over one billion tube journeys per year, the department needs to stay up-to-date.
Earlier this month, TfL launched a new Twitter direct message service, allowing it to slide into your DMs when disruptions happen. It's been in the works for six months, with TfL collaborating with Twitter to make it happen. London is the first city in the world to roll out such a feature.
It made sense: TfL's Twitter accounts have over four million followers. The authority already offered disruption alerts via SMS and email, but nobody's going to refresh their Gmail just to check if the Circle line is down (hint: it probably is).
"We've gotta be really agile with this. Customer expectations really change quickly, and platform preferences do change over time," Young told Inverse. "We really wanna follow where our customers are, we wanna be in the same places that they are."
It sounds like a small feature, but it forms part of a gargantuan operation that millions of people depend on every day. Beyond the tweetsphere, 83 percent of Londoners use TfL's web offerings to plan their journeys. That's a staggering amount of users: the official Greater London area is home to nearly 8.7 million people. The wider metro area houses nearly 14 million people.
With that in mind, it made sense to go where the people were. "We think this is a great thing for customers, and if they really like what we're doing, and more customers get involved with it, then we'll look at what else we can do," said Young.
One of TfL's other tech successes is its payment system. Its contactless Oyster card was an awe-inspiring breakthrough when introduced in 2003, quickly becoming the world's most popular transport smartcard. At a time when home broadband was on the rise, the authority updated its websites to allow customers to top up their cards online.
It's hard to stay on top of how quickly technology changes, which is why TfL lets developers come up with their own ideas. TfL Open Data is a giant, anonymized collection of data that app makers can tap into and find out everything, including which cycle hire stations have free spaces and the current flow of traffic on the city's roads.
It's all out and ready for app makers to take advantage of, and they have loved it. Nearly 9,000 developers are signed up to use the unified application programming interface (API) in their creations. 42 percent of Londoners are using apps that employ this data.
"People can build viable businesses on that, that employ people in our city, and contribute to making London a real tech hub," said Young. One such business is Citymapper, an app that started out as a humble route planner in 2011, but has rapidly transformed into an indispensable tool for city living.
Apple has made Citymapper app of the year three years in a row and used it to introduce the Apple Watch. In January, the company received $40 million of funding in a series B round of investment. Without a doubt, it's one of open data's best success stories.
TfL encourages this community by holding hackathons, maintaining dialogue, and finding out what programmers need to get started. As for internal ideas, Young is reluctant to say what the future holds. The world is moving on too quickly for laying out multi-year plans.
"Customer preferences and behaviors are what we need to follow, rather than a set, monolithic plan," said Young. For all we know, commuters will want travel disruptions sent to their Peach app.