London's Tube Will Tweet You When It's Down With New TfL-Twitter Service
TfL claims it is the first system of its kind in the world.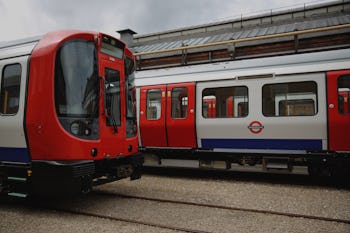 Getty Images
Commuters spend most of their journey glued to their phones, oblivious to the world around them. That seems like it may have its problems, but one city is making the most of it to try and alert people to the fact that they're going to be really late if they don't stop dithering. Transport for London (TfL), the body that oversees the UK capital's metro network, on Thursday revealed a new initiative where tube lines will tweet users when disruptions are reported on their favorite lines.
The partnership with Twitter allows followers of the Overground, TfL Rail, Central, and District line accounts to receive direct messages the moment severe issues hit the lines. TfL claims the system is the first of its kind in the world.
TfL has set up a new website where commuters can manage their Twitter alerts, picking out specific times of day to request information. For example, a commuter can set up direct messages to only send during the morning commute, or a night shift worker can check on the status of the 24-hour tube when it launches later this year.
TfL is something of a pioneer when it comes to new technology. The tube system's Oyster card, introduced in 2003, brought contactless payments to ticket barriers at a time when the idea was still something of a novelty. In 2014, the body introduced full support for contactless payment cards, so commuters could board a train by tapping their debit card. When Apple Pay launched in the UK in 2015, it meant Apple Watch owners could travel around London by waving their watch.
TfL's latest tech advancement is likely to please busy travelers who don't have time to deal with apps and websites. "Like every Londoner I rely on public transport to get me around and this world-first service looks set to become an essential tool for millions of Tube passengers," said Sadiq Khan, mayor of London, in a statement. "It is an innovative way of providing people with live updates from the Underground and contributes to my goal of making it as easy as possible to get around the capital."