FBI Says Its Ability to Hack Encrypted Phones Is "Increasing Everyday"
We don't know much about the FBI's secretive tactics and budget.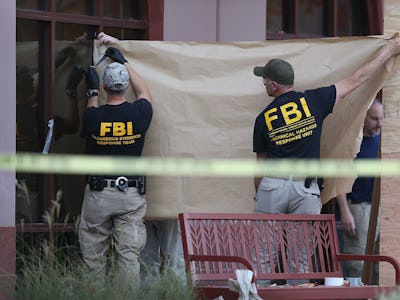 Getty Images / Joe Raedle
On Thursday and Friday, the intelligence community sponsored a series of round tables with FBI officials, academics, and tech companies on the future of cyber security and the bureau's ability to hack encrypted phones.
"Hacking devices … of course we do it, but it is slow," said James Baker, the top lawyer for the FBI, during an event hosted by The National Academies of Science, Technology, and Medicine. He added that the FBI's technical capabilities are "finite but in some ways" are better and increasing every day, according to The Intercept.
The FBI is ramping up spending and resources around both national security and domestic law enforcement, but the bureau is not disclosing the exact amount.
The Operational Technology Division of the FBI, which controls the bureau's most advanced innovations including biometric scanners and robots, is particularly hushed.
Late last year, The Washington Post estimated the FBI's budget was around $600 to $800 million, but the agency recently requested an additional $100 million in funding for fiscal year 2017.
The bureau reportedly paid a whopping $1.3 million just to hack the iPhone of the San Bernardino shooter. As of March, the FBI hasn't disclosed to Apple how it hacked its device.
In another move of secrecy, the FBI today classified a technique it used to hack the web browser Tor, an exploit the bureau used to identify visitors to child pornography sites.
As tech companies provide more tools that allow for more encrypted messaging, so too has the FBI's efforts and budget increased to combat the trend. Apples' iMessage, WeChat, and WhatsApp are three popular messaging platforms that already allow end-to-end encryption with Facebook Messenger and Google's Allo to follow later this year.
The government and tech companies are also growing more concerned about technologies ability to radicalize people through extremist speech, and they're developing software that would automatically suppress such speech.
All of these measures require a nuanced balance, but that can only be achieved if the FBI is more transparent about its spending and operations.