Chicago Loses George Lucas Museum, Los Angeles Volunteers In Response 
Time is money, and wasted time has left a few parking lots in Chicago with no plan for the future after the departure of the proposed Lucas Museum.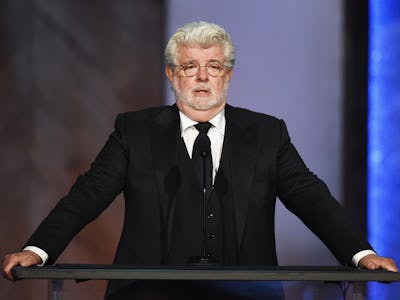 Getty Images / Kevin Winter
For nearly two years, a fierce war has been waging between one parks department and the man who created Star Wars. The proposed Lucas Museum of Narrative Art was meant to fill space currently occupied by parking lots, but its intended Chicago location just because a thing of the past. Today, George Lucas himself released a statement saying that he'd be pulling the project out of Chicago and heading back to California, where the original build site was planned.
Before anyone jumps down the throats of every person in Chicago (save that for the diamond, folks), the primary group blocking the museum's construction is known as Friends of the Parks. The group filed a federal lawsuit in order to block construction back in November of 2014, and since then, negotiations have been nothing short of aggressive.
"No one benefits from continuing their seemingly unending litigation to protect a parking lot," Lucas said in the statement. "The actions initiated by Friends of Parks and their recent attempts to extract concessions from the city have effectively overridden approvals received from numerous democratically elected bodies of government." At the moment, there are no concrete plans on what to do for the parking structures that Friends of the Parks so strongly defended — but, with football season kicking off soon, at least local tailgaters will have somewhere to wreak havoc.
Unfortunately, the long-standing repercussions aren't just a people's victory: the museum was set to be funded by Lucas himself, with a price tag of close to $750 million. That opened up the road for hundreds upon hundreds of new job opportunities and economic gains through tourism. The museum was to span a gigantic 300,000 square feet over 17 acres of gorgeous lakefront property, and its loss is seen as a huge blow to Chicago by the city's mayor, Rahm Emanuel, who did not hesitate to point directly to the source of the problem. "Chicago's loss will be another city's gain," the mayor said in a statement released today. "But despite our best efforts to negotiate a common solution that would keep this tremendous cultural and economic asset in Chicago, Friends of the Parks chose to instead negotiate with themselves while Lucas negotiated with cities on the West Coast."
In response, Los Angeles Mayor Eric Garcetti has thrown the glittering plastic doors of the city open for the Lucas Museum, should Lucas choose to abandon a new possible location in San Francisco. "Tens of millions of people visit our city every year — and L.A. has unquestioned stature as a world arts capital, thanks to institutions like the Broad, the Getty, MOCA and LACMA," said Garcetti. "We would welcome the opportunity to be a permanent home for this incredible collection, which would become part of a museum culture that is unrivaled in the United States."
The future of the museum still remains unknown; the project is being led by Lucas and his wife, producer and humanitarian Mellody Hobson, who is a Chicago native. One possible site is being explored out on an island off of the San Francisco bay, which wouldn't be far away from Lucasfilm Headquarters and Skywalker Ranch. So the question is: will Lucas keep it close to home or go for the dwindling heart of Hollywood?