Apple Is Discontinuing Its Only Monitor. What's Next? 
For nearly half a decade, the Thunderbolt has held strong as Apple's standalone monitor make. But now, it seems, Apple is abandoning the screen for a mysterious future.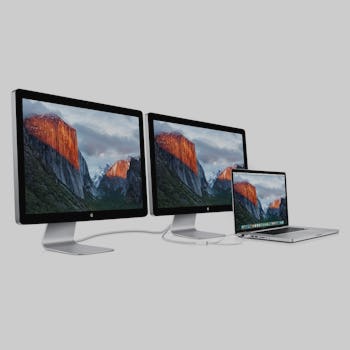 Apple
Since 2011, Apple has had one type of monitor with no exception — the Thunderbolt. Sturdy, ahead of its time, and simply stunning to look at, the monitor has become a common staple in most offices and households across the country. Providing quite a bit of on-screen real estate for Mac users, the monitor has always been great, but it's never truly developed past its own brand. Speculation revolving around its improvement has run wild for almost as long as the $999 monitor has been on the market, but now, it seems as though everything has come to a halt.
Apple announced today that it is officially discontinuing the monitor, and as of right now, no plans for the future have been announced. Rumors ahead of this year's WWDC, where Apple usually presents its new products, focused on the possibility of 4K and 5K Thunderbolt monitors — but right before the show, Apple mysteriously removed the Personal Pickup app from all Thunderbolts. The app assists with in-store purchases, allowing users to buy their products ahead of time and grab them at the Apple store.
Multiple statements released to various sources from an Apple spokesperson all say the same thing. "We're discontinuing the Apple Thunderbolt Display. It will be available through Apple.com, Apple's retail stores, and Apple Authorized Resellers while supplies last," reads a statement issued to TechCrunch. The possibility of a future model was left hanging, but the statement also closes with a suggestion of using third-party monitors with Apple products, so it's also likely that the company isn't in any particular rush to replace its now-discontinued monitor.
The Thunderbolt, for anyone interested, will remain on sale until there aren't any left in Apple's stock. Unfortunately, the price won't be lowering: it'll remain a cool $999 until the very last one sells.