The Dino Game 'Saurian' Is Heading to VR
Welcome to Hell Creek, circa 66 million BC.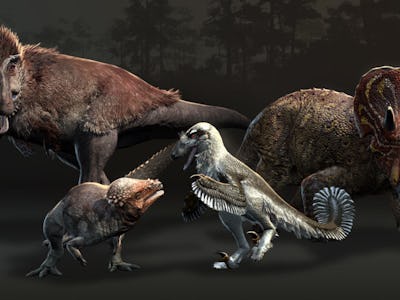 Saurian
The Kickstarter for Saurian, a video game that lets you live life as a real dinosaur, closed today having collected $220,000 in pledges, four times the campaign goal. The project promises to deliver an experience that is as scientifically accurate as possible, relying on the most up to date evidence on what life was like on this planet 66 million years ago. Just a day before the campaign expired, it reached the stretch goal that committed developers to offer the game in virtual reality. The man behind the game was pumped.
"We're very excited about implementing VR in Saurian," project lead Nick Turinetti tells Inverse. "Everyone is obviously excited about the potential to play as a dinosaur in VR, but another experience we're exploring is sort of akin to a self-guided tour of Hell Creek from a human perspective as an expansion of our already unlocked spectator mode. Adding VR to this experience has some awesome potential applications, like museum exhibits."
The team hopes to have an early release version of the game ready by early next year. Unfortunately if you missed the Kickstarter, you may have missed the opportunity to purchase early release access, says Turinetti.
Thanks to the wildly successful fundraising campaign, the full release version of the game promises to be awesome. The game world will include weather events that real dinosaurs will have had to contend with, like forest fires and storms. There will also be a post-impact survival mode where you will fight for life on an Earth that has been blasted by an asteroid, turning the skies dark and killing off the plants.
The Saurian team will be spending most of their time over the next year making the game as sweet as possible, though they promise to keep supporters in the loop, and may offer new opportunities to buy merchandise or get involved, says Turinetti.