Obama's Science Advisor Holdren Says There's Intelligent Life Out There
He took to Facebook Live to discuss the president's legacy as an advocate of science.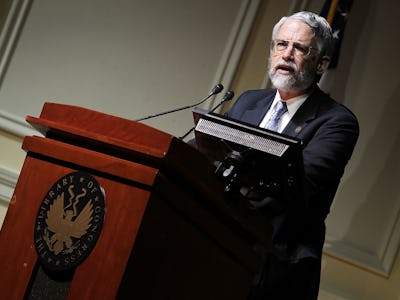 Getty Images / Paul Morigi
John P. Holdren, the President's top science advisor, took to Facebook Live today to talk about the Obama Administration's 100 favorite science and tech accomplishments. Along the way, he also explicitly discussed aliens.
"It is entirely possible that within our lifetimes, you and I will see much greater understanding of whether we are alone in the universe as intelligent life or not," Holdren said, noting recent advancements in telescopes and the ability to detect gravitational waves. It is extremely likely there is not only life, but intelligent life out there. They may be too far out for us to ever communicate with, but they're probably out there.
Today marks a milestone for Holdren, who is now the longest serving science advisor to the president, beating Vannevar Bush, who held a similar role in the Roosevelt and Truman Administrations during and after World War II. Holdren worked for Clinton in the 90s, and was nominated for his role in Obama's cabinet in 2009 (he skipped the Bush years). He used the day to applaud the administration on a range of innovations from investments in NASA to environmental research, funding, and policy.
Ironically, amidst Holdren's praise of the President's technological innovations, the live stream was fairly choppy and very hard to hear, frustrating many of the over 2,000 live viewers during the 20 minute interview.
For those who could listen in closely, Holdren discussed both aliens and how the newfound found diversity and inclusiveness of science will spur growth. He echoed statements Bill Gates made last year, saying that the country was "on the cusp of a real revolution in medicine."
But all these things are still well off in the future, and as he prepares to leave office, Obama is looking back at some of his scientific accomplishments, a testament to his renewed pledge to "restore science to its rightful place."
Although he entered office hailed as the first "Blackberry president," Obama hasn't exactly been flawless when it comes to technology. The initial launch of Healthcare.gov was a well documented flop, and the president also refused to take a strong stance for or against encryption, saying he doesn't take an "absolutist view" on the debate. That was enough to cause dismay in some of the tech world, and other critics on the left feel he hasn't done enough to reverse the effects of climate change.
Still, like his presumptive successor (and alien believer) Hillary Clinton, Obama has always attempted to make small progressive steps that add up to big changes in the long haul. Earlier today, he signed the Frank R. Lautenberg Chemical Safety for the 21st Century Act, which gives the EPA more authority to regulate toxic chemicals.
Obama went in hard on science right after his inauguration in 2009, appointing five Nobel Laureates in science and 28 other members of the National Academies of Sciences, Engineering, and Medicine to join his administration. Holdren said this momentum helped carry them through 100 accomplishments, 90 published policy papers, and hundreds of billions of dollars in research funding since 2009.
"The secret sauce is having a President of the United States, Barack Obama, who is the most science savvy president we've had since Thomas Jefferson," Holdren said. "That really set the stage and provided the oomph for everything we've done."
You can watch the full video on the official White House Facebook page.