EU Plan Would Help Robots and Humans Coexist by Granting Robo-Rights
Do androids dream of electric rights?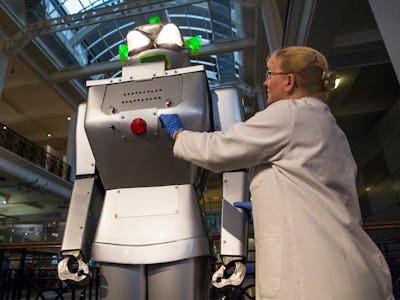 Getty Images
The European Union may grant robots rights, in a far-reaching proposal aimed at re-assessing the impact of labor automation. According to a Reuters report published Tuesday, a draft motion by the European Parliament would seek to look at a wide range of fields to determine whether robots should be classified as "electronic people." The idea comes at a time when robots are gradually becoming a regular feature in the workplace, leading to questions of how humans and their mechanical friends may work together in future.
The proposals would mean looking at potentially asking robot owners to declare social security savings in their tax returns, making them reveal how much they saved from replacing human workers. This would be necessary to ensure that social security systems remain feasible as robots are used more in production.
The draft motion also wants the EU to consider "that at least the most sophisticated autonomous robots could be established as having the status of electronic persons with specific rights and obligations."
Robots are slowly replacing humans on the production line. In May, it was revealed that Foxconn is gradually bringing in more robots, with the company aiming to get one million robo-workers on the factory floor.
The idea of humans working in such close proximity to robots has led to researchers calling for a "kill switch." "Now and then it may be necessary for a human operator to press the big red button to prevent the agent from continuing a harmful sequence of actions," said a paper published by the Machine Intelligence Research Institute earlier this month.
All of this means possibly reconsidering the role robots play in human work. If we're going to toil side-by-side with robo-workers in the future, maybe it's worth scrutinizing that relationship and making sure it's sustainable.
Not everybody is on board with the draft motion. The VDMA, a German organization that represents robot manufacturers, expressed concern at this week's Automatica Munich trade show. "That we would create a legal framework with electronic persons - that's something that could happen in 50 years but not in 10 years," said Patrick Schwarzkopf, managing director of the VDMA's robotic and automation department. "We think it would be very bureaucratic and would stunt the development of robotics."