Foxconn Is Bringing in More Robot Workers, but Not the 1 Million It Promised It Would
Foxconn has been _slowly_ adding more and more automation.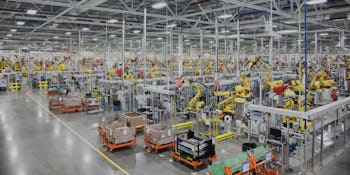 Flickr/Fiat Chrysler Automobiles Corporate
Foxconn, the manufacturing giant that produces most Apple and Samsung gadgets, has long tested the limits of human endurance with some of its labor practices. Now, the company appears to be making good on its effort to dispel with its employee trouble altogether, trading in 60,000 workers for robots. The company has long advocated the benefits of automation, at one time setting a goal to bring in one million manufacturing robots.
Though the Foxconn factory making the shift to more robots isn't believed to be bringing in the numbers necessary to boost the company's robot force to a million, it is decreasing its human labor force from 110,000 to 50,000. Located in Kunshan, Jiangsu province, adjacent to Shanghai, the company insists that the decrease in one factory meant overall long term job-loss. As of now, it remains the third largest corporate employer in the world, after only Walmart and McDonald's, but that may change one day soon.
"More companies are likely to follow suit," Xu Yulian, the government's director of publicity for the Kunshan region, told the BBC.
Foxconn has been adding more and more automation over the years. The company had roughly 10,000 robots providing labor in 2011, back when it said it was aiming to reach one million robots in its workforce by 2014. That goal has, by all accounts, not been seen through; a report last year stated the company has been adding around 30,000 robots annually.
Of course, there could be a deliberate reason why the company has sagged on its implementation of more robot workers. A May 2015 profile by the Wall Street Journal explained that Foxconn's robots don't always make great "cost-effective" replacements for human workers, specifically considering that they're built or revamped specially for each different smartphone model manufacturing cycle. Still, many simple, repeatable tasks, like applying spray paint or polishing products, are becoming more and more automated at Foxconn, with some factories in the company even running "lights-out," or workerless, operations.
"We are applying robotics engineering and other innovative manufacturing technologies to replace repetitive tasks previously done by employees, and through training, also enable our employees to focus on higher value-added elements in the manufacturing process, such as research and development, process control and quality control," a Foxconn spokesperson wrote about the company's latest robot hires in a statement to the BBC.
So Foxconn may not be growing its bot army to the lengths it promised five years ago, but the total share of work done by human employees is undoubtedly shrinking. Huge investments in robotic manufacturing from companies in China and Taiwan have fundamentally changed the economics, leading to the long-predicted advent of automation. Factories in Guangdong region of China have poured almost $430 million in automation investment since September 2014, according to the BBC.
Automation has been a central theme in the general concern over the future of manufacturing and the global economy as a whole. Between robotic factory workers and autonomous cars dominating the taxi and trucking industry, many fear the economic well-being of vast populations are at risk in the coming years. A report from Deloitte indicated that 35% of jobs will be in jeopardy over the next 20 years alone.
It should come as no surprise, though, that Foxconn, which led us into the age of digital manufacturing, is now pushing us into the age of automation – even if it's slower than it said it would.