The Next SpaceX Launch Will Be No Later Than July 18th
SpaceX's next cargo resupply mission to the International Space Station has been set for the afternoon of July 18th in Cape Canaveral.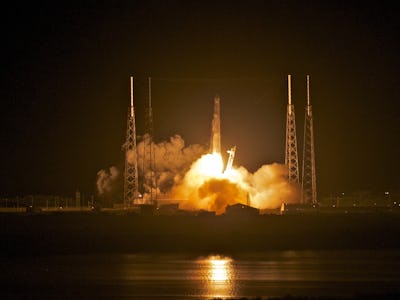 Getty Images / Roberto Gonzalez
SpaceX's latest satellite launch, which occurred last week, didn't go quite as planned. While complications surrounding the Falcon 9 rocket's landing on the drone ship Of Course I Still Love You were acknowledged, the engineers at SpaceX knew that anything could happen upon re-entry, and it did. The Falcon 9 crash-landed on the floating drone ship, and SpaceX founder Elon Musk attributed the problems to "early liquid oxygen depletion" that went on to cause an engine shutdown just above the deck.
Now, the company hopes to follow up with a successful run back up to the ISS. Announced today, the next launch will occur no later than 12:45 a.m. EST on July 18. As ever, the mission will take place Cape Canaveral Air Force Station, and will mark the ninth venture up into space for the company.
The mission will continue to fulfill the Commercial Resupply Services contract that the company has drawn up with NASA. This time around, along with bringing standard supplies (over 4,900 pounds worth of it), SpaceX's Dragon spacecraft will transport the first of two international docking adapters, which NASA says will assist both Boeing's CST-100 Starliner and SpaceX's Crew Dragon spacecraft in docking to the ISS as astronauts begin heading to the station in the near future, as part of NASA's Commercial Crew Program. Eventually, the Dragon's intended use will include transporting those astronauts to the station themselves, as well as its recurring cargo runs to keep them supplied. Out of what might be sheer coincidence, the mission follows the return of three astronauts from the ISS last week.
It's become standard practice to live stream the launches, and this time will be no different. Interested viewers can tune into NASA's stream on the day of the launch to catch conferences and the launch itself.