Apple Watch Is $49 at Best Buy With iPhone Purchase Because Consumerism
This new offer borders on impulse buy territory.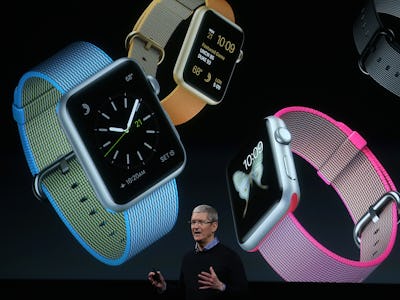 Getty Images
Do you need an Apple Watch? Chances are, probably not. Stuck firmly in the category of "it's nice to have," Apple has so far failed to make the case that everyone and their mother needs to strap a computer to their wrist. For now, the watch is a neat iPhone accessory, so Best Buy has taken this on board with a new discount designed to make you spend just that little bit extra.
The store is offering a deal to buyers of a new iPhone 6s or iPhone 6s Plus. Customers who sign up for a two year contract, lease, or monthly installment plan with Sprint, Verizon, or AT&T can get a $250 discount on a new Apple Watch when purchased online at the same time, meaning the watch can be had for as little as $49.
Best Buy's offer is interesting because it moves the watch out of "desirable tech gadget" territory and into "impulse buy" range. When spending hundreds on a new phone, it's harder to say that $50 more is going to make all that much difference, because if you have the money to commit to a two year contract on an expensive phone, you can most likely afford to spend the extra. What's more, you're pushed to spend that $50 as you see it as a way of saving money, when in practice you may not have spent that money in the first place.
With a tie-in product like the Apple Watch, which communicates with the iPhone and makes it faster to respond to texts, the offer makes perfect sense. You're excited for your new phone. You want to make it better. At $49, the Apple Watch is basically an accessory, like a case or an in-car charger.
Apple dropped the price of its Watch Sport models in March by $50, so including Best Buy's discount, a 38mm Apple Watch Sport will set you back just $49. Customers with larger wrists may want to plump for the 42mm model, but those cost $50 more than their smaller counterparts, so it essentially means paying more than double for a slightly larger watch. Then again, what's another extra $50 if you're already spending hundreds on the phone?