'TMNT: Out of the Shadows' Was Such a Failure That Viacom's Share Price has Dropped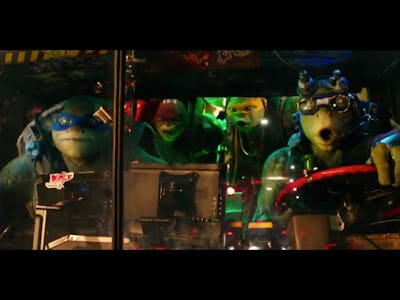 YouTube
If you didn't see the latest Teenage Mutant Ninja Turtles film, don't bother. Or rather, do bother if you're an investor in Viacom or you otherwise care what price the company's stock is trading at. A poor box office showing for Out of the Shadows, possibly spurred by bad reviews, has left investors shaken. That is the opposite of gnarly.
As of June 15, the film has made just over $65 million domestically, grossing $122 million worldwide. That's bad news considering the film cost $135 million to make in the first place, and those missing millions are having a knock-on effect on Viacom's bank balance.
According to a Deadline report published Friday, Viacom told investors that the poor box-office results for Out of the Shadows, coupled with delays surrounding "a significant SVOD agreement [subscription video on demand, think Netflix]," means that the company's end-of-quarter financial results are going to make for some grim reading. Well, a tad more grim than otherwise expected.
Investors didn't like hearing that. In pre-market trading, shares dropped by over 1.8 percent.
It's a shame, really. Pre-release trailers made the film look fairly decent. It looked over-the-top, fun, and exciting. Let's be honest, it would've been hard to do worse than the previous film released in 2014.
Critically, it did do slightly better than the last film. Just about. While the original scored a miserable 22 percent on Rotten Tomatoes, the sequel scored a more respectable 36 percent. That's still not great, though. It's like being served a pile of flaming poop at a restaurant, sending it back, and getting the same dish again but with the fire extinguished. It's better the second time around, but it's still poop.