3nder Founder Says Apple Hinders the Future of Sex, but Siri May One Day Find Hookups
Dimo Trifonov was critical of Apple's policies.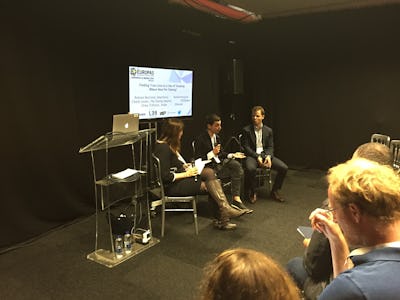 Mike Brown/Inverse
The founder of 3nder, a hookup app that helps people organize threesomes, is worried about Apple's impact on the future of human sexuality. Dimo Trifonov thinks that the company's walled-garden approach to content, which restricts apps containing adult content from its devices, could stigmatize or discourage sexual experimentation. This is despite the fact that Apple's "Siri" personal assistant, in Trifonov's view, could make hookup apps obsolete.
"What worries me is I was checking my Apple TV and I was like oh my god, there is nothing adult related on my Apple TV! It's like this sterile environment," Trifonov said. "I want it to be more…not mainstream…but not a taboo?"
Apple has previously found itself in hot water over its draconian app store policies. Several Reddit apps were yanked from the iPhone in April, without warning, after Apple decided that the apps' abilities to display adult content went against app store rules. The apps were later restored after the developers hid content not safe for work (NSFW) by default.
Although closed ecosystems like Apple could have an adverse effect, Trifonov was positive about the amount of information at Generation Z's fingertips. Sites like Tumblr, Trifonov said, were able to break down the stigmas around asking questions and exploring.
"We all live in this world with invisible walls, where this is morally right and this is morally wrong," Trifonov said. "We have the power to model our platform for them to try rather than feel worried for themselves."
So the future is 3nder, right? Not necessarily. Trifonov sees a bleak future for hookup apps, and many other types of apps – as personal assistants like Siri and Google Now gather more data on users. Why bother putting likes and dislikes into a dating site when your phone already has a pretty good idea of who might suit you? Why bother even telling an app that you're interested in meeting people?
"With a bit more sensors [on our phones], they can know if we feel lonely, or depressed, or if we need a human connection," Trifonov said. "I personally think this is the future."